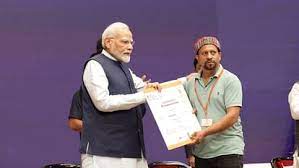 Prime Minister Narendra Modi honored Gulshan Chandra, a resident of Dadhog Mohalla in Chamba, at an event held in Delhi for his outstanding work in the Chamba Chappal tradition and the guru-disciple lineage. Prime Minister Modi has initiated the Vishwakarma Scheme for India's artisans and laborers. He honored 18 traditional occupations, skilled workers, and artisans from across the country with Vishwakarma certificates.
This scheme, with the presence of central ministers, has been launched for all states and union territories. Over the next 5 years, the Vishwakarma Scheme will allocate funds of up to 13,000 crore rupees. It is specifically aimed at the welfare of laborers at the grassroots level of society.
Artisans and laborers will also receive training under this scheme, and those undergoing training will receive a monthly stipend of 500 rupees. On receiving this honor, Gulshan Chandra received congratulations from various organizations' officials, including Jitendra Surya, Avinash Pal, Jiteshwar Surya, Anoop Kumar, Meghna, and Vinod.