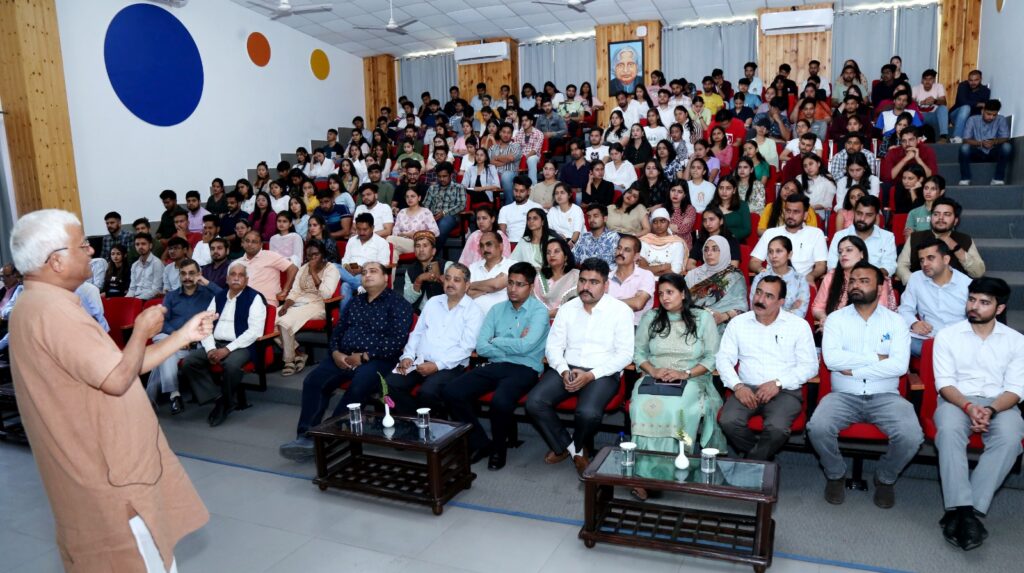 Solan, May 24
The MS Swaminathan School of Agriculture, Shoolini University hosted a millet day as part of a series of events commemorating the International Year of Millets – 2023.
Padmashri Prof.  Khadar Vali, the "Millet Man of India" and a well kown food and nutrition specialist, was the guest speaker at the occasion, and he discussed that millets are an extremely good source of fibre and protein compared to rice and wheat. He further added that although millets were part of mainstream diets for a long time, these were "sabotaged" in the last 60–70 years by corporations that marketed rice and wheat, which he dubs "disease-causing negative grains".
Prof. Khadar said millets are called "Siri Dhanya'', meaning positive millets, and "Shuka Dhanya'' (millets with healing properties). Dr Khadar Vali has also propounded a method (Kadu Krishi) for natural cultivation of millets. Dr Khadar Vali shared that in terms of nutritional value, millets supersede rice and wheat. He also explained that hoe millets can help in controlling and preventing so called lifestyle diseases like diabetes, obesity, and heart disease. Millets in our diet can ensure glycemic control, ease constipation, and protect against breast cancer and respiratory issues.
Dr. Khadar Vali said that he has used various millets in therapeutic diets and has recorded health benefits in addressing diabetes, hyperlipidemia, drug-induced malnutrition, and anaemia for various patients. Millets also do a lot of good for people suffering from hypothyroidism and women with polycystic ovarian disease. He also emphasised the changing of mindsets along with lifestyle, which he means can make a healthy and sustainable society. He urged all agriculture experts to promote millets in agriculture to save soil, water, the environment, and, above all, human health.
Prof PK Khosla, Chancellor Shoolini University, in his message, which was read by Dr. Sunil Puri, Registrar of the university, highlighted the need to revive millet cultivation to target nutritional security. He said that at Shoolini, different faculties are working on various aspects of cultivation and value addition of millets to be in tune with the national focus.
About 200 undergraduate and postgraduate students were present, along with the faculty members of the MS Swaminathan School of Agriculture and other faculties, for this special lecture. A special millets focused exhibition, poster presentation competition, and declaration contest were also organised on the occasion.