Shimla, 20 Oct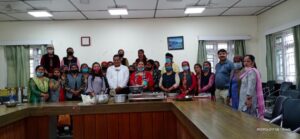 The present government of the state is obligated towards building an inclusive society and is therefore implementing policies and programs which emphasize on the role of women especially those coming from rural backgrounds. Taking this forward, special attention is being paid to the formation of women self-help groups, so that the women in rural areas can be made self reliant during the current corona crisis period.
One such effort can be seen in the form of Sudarshana Women self Help Group, which has been formed in Gram Panchayat Samoli in Rohru. The group has about 25 women who make apple jam and chutney from C grade apples. This group is a living example of women empowerment. The chairperson of the group Sudarshana Chauhan said that the Horticulture Development officer Rohru, Dr. Kushal Mehta gave a three day training at block level to understand the intricacies of preparing superior quality apple foods.
She further stated that these products are available at sales centers in Bengaluru, Hyderabad, Nagpur and Delhi. Efforts are also being made to make the products available in other major Indian cities. After seeing the success of Sudarshana Self Help Group, there are further plans to organize various training camps across Rohru subdivision to make the women of the region economically viable.
Horticulture Development Officer Rohru, Dr. Kushal Mehta gave the credit of the success of this group to nodal officer Dr. Devraj Kayath and former Deputy Commissioner Shimla, Amit Kashyap who contributed whole heartedly towards the initiative.