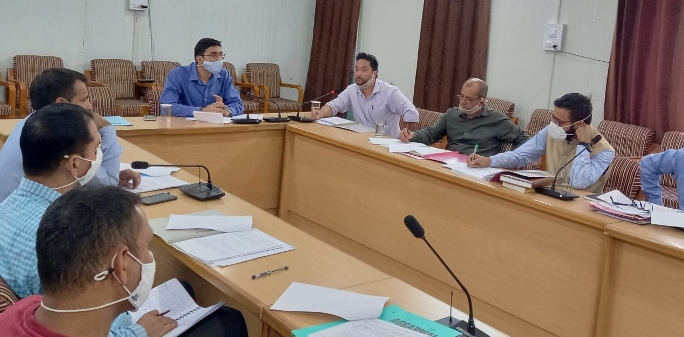 NYK Volunteer to Make People Aware of Corona Infection, Symptoms and Immediate Testing
Chamba, Oct. 20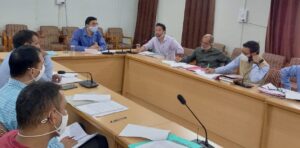 The Nehru Yuva Kendra will make arrangements for training 25 youngsters in the district for repair of agricultural machinery and equipment, motor mechanic, and apple processing work said Mukesh Repswal Additional Deputy Commissioner while presiding over the review meeting of the Annual Action Plan of Nehru Yuva Kendra implementation.
They will be trained in the first phase in 4 blocks of the district by taking the guidance of master trainers so that they can become financially independent. Coordination should also be established with the Department of Industries in this direction said Mukesh.
He also said that during this period of Covid-19, the Volunteer of Nehru Yuva Kendra should create awareness about corona infection, its signs, and symptoms in the general public along with immediate testing if found symptomatic as treatment is possible at an early stage without many difficulties.
He suggested that if youth clubs make short videos to create awareness, then this will send an effective message about the prevention of corona infection among the general public.
He said that under the action plan of Nehru Yuva Kendra, volunteer survey work of Nehru Yuva Kendra will also be done for the career counseling and career guidance of youth in the Chamba district. He said that the data collected will also be uploaded on the Champion website of the Ministry of Micro, Small and Medium.
This work will be done under the Self-Reliant India Scheme to make the youth self-reliant and self-reliant, besides identifying the youth and creating skill development in them. Financial assistance has been given through various banks for micro, small and medium enterprises in Chamba district also under the Self-reliant India Scheme.
Acting General Manager of the Department of Industries, Chandra Bhushan informed that under the Prime Minister Micro food Enterprises Scheme, 29 self-help groups and farmer product associations have been selected from Chamba district and their list has been sent so that these self-help groups and unions can also be self-reliant in India.
Vivek Kumar, District Coordinator of Nehru Yuva Kendra gave detailed information about the annual work plan of Nehru Yuva Kendra. He said that awards are also given to the best performing youth clubs on the basis of district level, state level and national level.