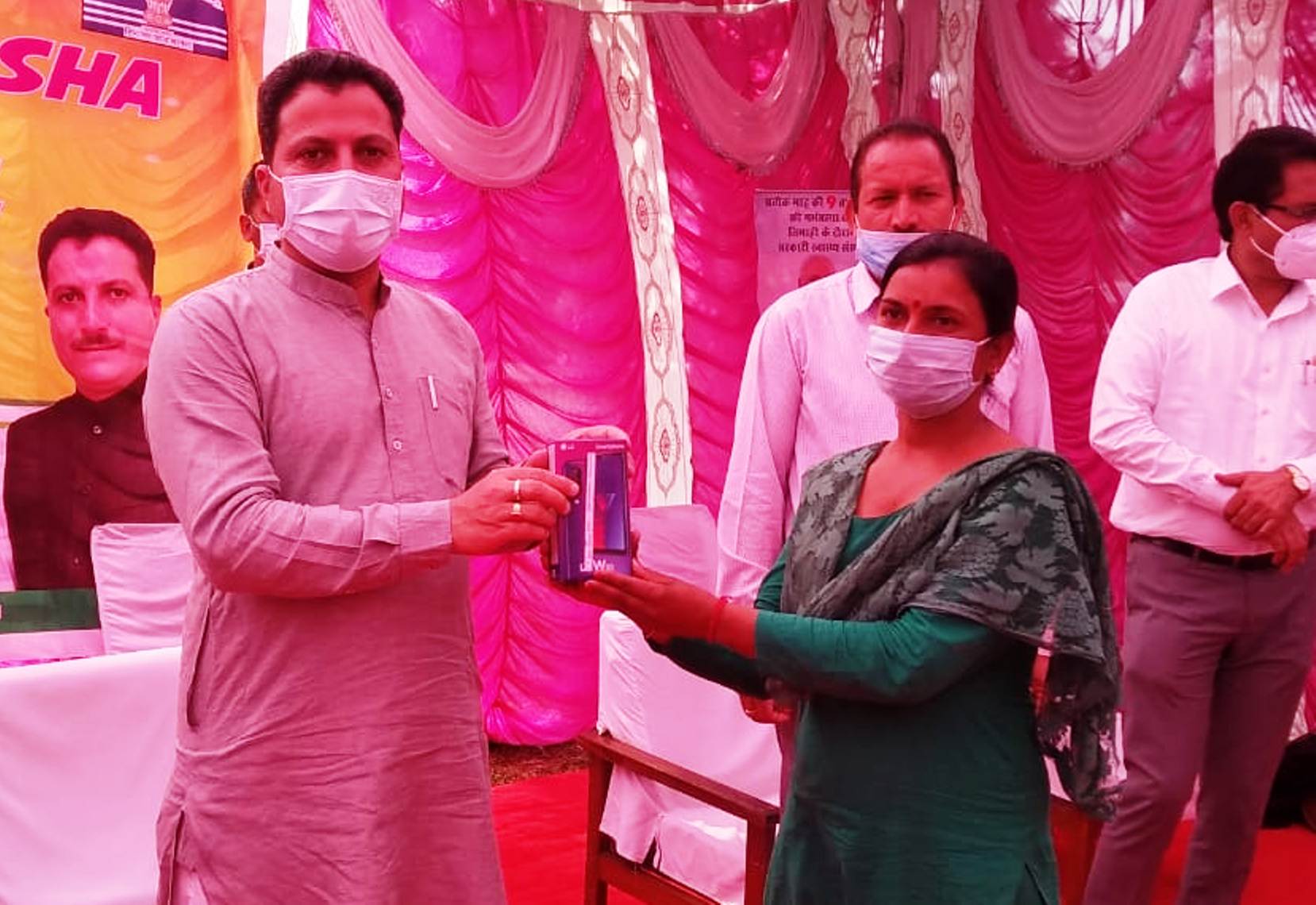 Mandi, October 13:
In a new initiative by the state government to overcome the infection of the corona epidemic, smartphones are being distributed to the ASHA workers of the state to connect them with new technology and exchange of information in the modern era.
Local MLA Rakesh Jamwal today distributed smartphones to 77 ASHA workers under the Legislative Assembly constituency at the Public Works Rest House Sundernagar. On this occasion, he said that this will intensify his work and information will be transmitted timely and quickly. This will intensify the compilation of data at the state level.
He said that Asha Worker's services have been excellent during this period of Corona. In the atmosphere of fear and fear, these activists performed the duty assigned to them well. Along with corona awareness, he made information related to quarantine, active case finding, corona infection timely to the Health Department. Apart from this, she is providing her active support in various services related to Health Department.
Talking about the development of the area, Rakesh Jamwal said that the State Government is committed to providing health facilities to the people at their doorstep. In this context, all the posts of doctors in PHC and CHC in Sundernagar have been filled. In Sundernagar Hospital, doctors have been posted in 21 out of 22 posts. Sundernagar Hospital has provided the best modern facility for the treatment of dialysis and eye diseases.
2 crore has been sanctioned for construction of second floor in Sundernagar Hospital and Rs. 9 crore for the accommodation of doctors and para medical staff. Sundernagar Hospital has 10 ventilators available.
Chief Medical Officer Dr. Devendra Sharma said that 2113 corona cases have been reported so far in Mandi district, out of which 1713 have been recovered, 377 are active cases and 1456 people are in home isolation. The ASHA workers are also playing a key role in their care and distribution of medicines in Home Isolation. There are 1250 ASHA workers in the district.
Block Medical Officer Rauhanda Dr. Avinash informed that out of 147 ASHA workers in Sundernagar division, 77 ASHA workers were distributed phones today and the rest will also be provided these phones soon. He honored the local MLA and explained the health facilities in Sundernagar division.