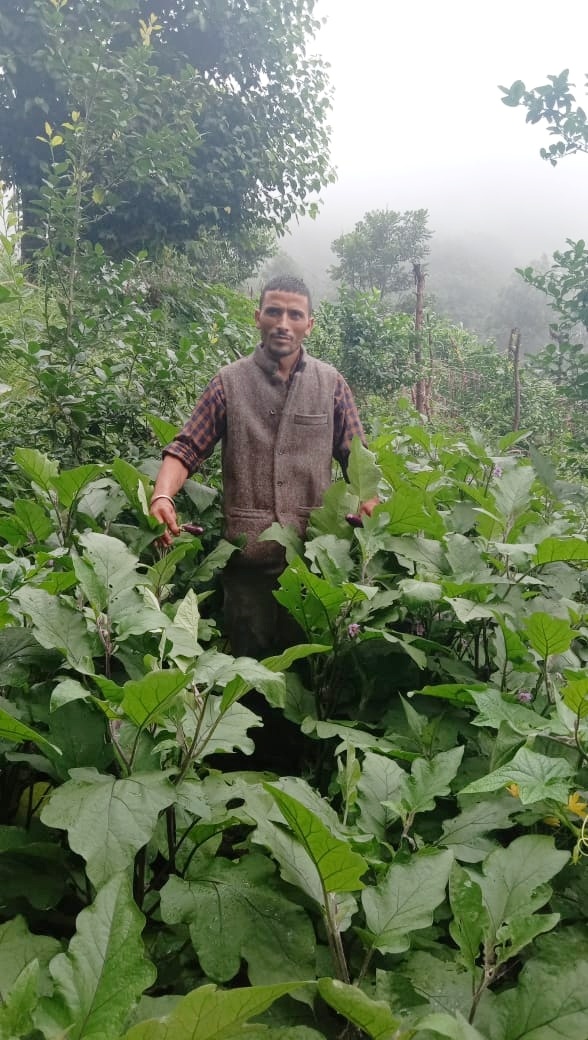 Kangra, Oct. 3
Nature has shed its colors in Boh, the beautiful valley of Dharanandi, an inaccessible area about 22 km from Shahpur. All the people coming here do not get tired of consuming its beauty. But despite being wooded with natural beauty, most of the land in this lush green valley is barren due to stones. That is why people often go out of the village in their spare time for their livelihood. But Mohindra Jaryal, who lives in village Morcha of Harboh, the panchayat of the same valley, has written a new chapter of success with his courage and hard work in the last few times.
For the past several years, Mohindra was involved in his ancestral work of grazing sheep. During this time, when he had two or three months' free time, he would go to Manali to earn a few rupees and work there in Bhandroh Sabzi Mandi. He used to work in the fields as a vegetable harvester. Being interested in gardening and vegetable production, he started learning the basics of gardening and fruit production. During the analysis of the geographical conditions and land properties of Manali and Boh, he felt that he had enough land in his village, Morsch, to be able to produce vegetables and fruits.
After coming home, he started making his eight kanals of land unviable. Working with restraint, hard work, and perseverance, he made about four kanals of land to be sown by removing small stones in an attempt to level the rough land. Currently, Mohindra has planted tomato, cucumber, francabin, bitter gourd, ghee, etc. in his new land. They are getting good prices for their vegetables. He is hopeful that his new efforts will strengthen his economy so that he will not only be able to take better care of his family but he will not have to go out of his village anymore.
Mohindra believes that dreams are fulfilled by those who work hard to fulfill their dreams. Nothing is impossible, if determined, a person can do anything if he works with a strong will. He explains that when he was leveling his land, the people of the village often said that where are you hitting their heads with stones. Nothing can be born here. But I proved that by working hard to produce vegetables on that barren land. Instead of wandering here and there, Mohindra, who has become an inspiration in his field, advises earning his livelihood by working hard on his empty desert land.
Rait-based agronomist expert HS Koti says that Dharandandi has immense potential for vegetable and fruit production. This area is also suitable for the cultivation of garlic and potatoes in addition to various types of vegetable production. Farmers here can grow these crops and strengthen their economy.
Deputy Commissioner Rakesh Prajapati says that the state government has taken several steps to strengthen the agriculture sector and has introduced several incentive schemes for farmers. Farmers can take advantage of these and improve their economy.