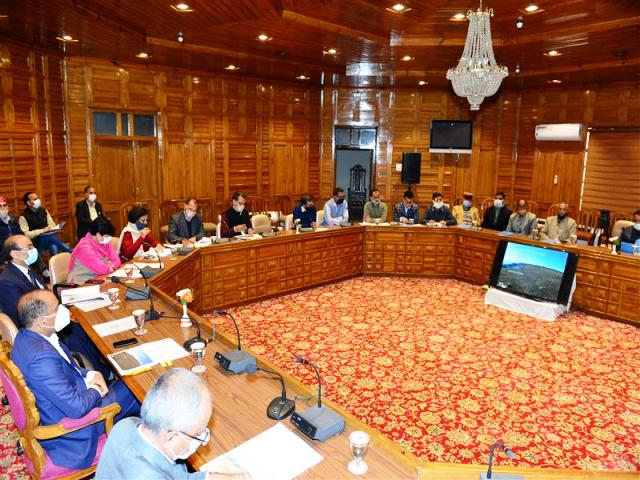 Shimla, Nov. 6
Shikari Devi Temple would be developed as the main attraction for tourists and devotees but at the same time, the pristine environment would be conserved. This was stated by Chief Minister Jai Ram Thakur while presiding over the meeting of senior officers of the State Government and Shikari Devi Temple Committee here today.
Chief Minister said that proper stairs from Kangri to temple were being constructed by locally available black slates. He said that to date about 6.2 lakh have been spent on the construction of over 230-meter stairs. He said that adequate provision of funds would be made to ensure the construction of stairs as well as railing.
Jai Ram Thakur said that proper strain Bhawan would also be constructed at Shikari Mata Temple by demolishing the earlier structure by adopting eco-friendly material and aesthetic architecture converging with ambiance. He said that this would provide better boarding and lodging facilities for the devotees. He said that rain shelters and resting sites would also be developed along the track. He said that adequate facilities of toilets would also be provided at Bullah and Kangri to facilitate the visitors.
Chief Minister said that beautification of the temple premises would also be carried out by developing a park and recreation sites. He said the Government would also consider constructing additional accommodation in the Forest Rest House. He said that the existing rest house would also be maintained properly.
Jai Ram Thakur directed that a joint inspection be carried out by the officers of PWD and Forest Department to explore the possibility for construction of proper zig-zag track suitable for plying electric or environmentally friendly vehicles like golf cart be carved out from Forest Rest House site to temple.
Members of Shikari Mata Temple Committee Diwan Chand Thakur, Gulzari Lal, Kamal Rana, Bhupinder, Mohar Singh, Dina Nath, Inder Singh, Roshan Lal and Hari Singh also gave their valuable suggestions for the beautification of the Shikari Devi Mata temple area on the occasion.