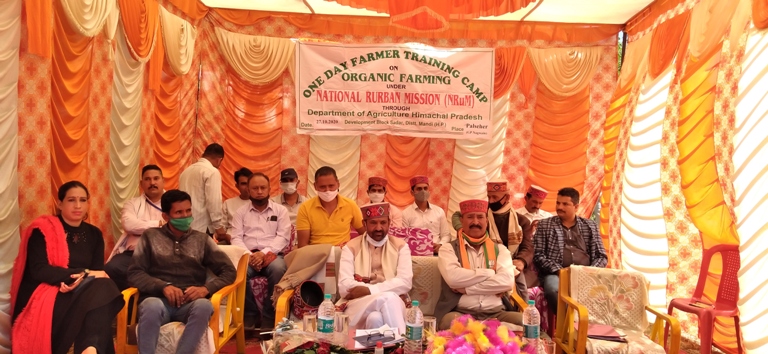 Padhar, October 27:
Dedicated efforts are being made by the Central and State Government to double the income of farmers by 2022 said Jawahar Thakur, MLA of Drang. Various programs, farmer supported initiatives and efforts are being made with the objective to make farmers prosperous.
The MLA said that farmers are the lifeline of the state. More than 80 percent of the population in Himachal is dependent on farming. The Central and State Government have run many schemes for the economic strength of farmers. Provision has been made for farmers on crop insurance schemes and subsidy on fertilizer, seeds etc. He appealed to the farmers to take the maximum benefit of government schemes.
About 350 women and male farmers of Gram Panchayat Kathayari, Nagavain, Jhiri, Takoli, Kota Dhar and Kigas participated in the camp. In the camp, farmers were made aware about Agro-Industrial Management Agency (Atma) and the natural Kheli Khushal Kisan Yojana.
Thakur said that 10 thousand gas connections have been distributed to women under Himachal Grihini Yojana in Drang area. He said that the development of 16 new panchayats in Drang assembly constituency will give a new direction to development.
He was presiding over a one-day agricultural awareness camp organized at Palsehar in Nagwanai, gram panchayat of Drang assembly constituency.