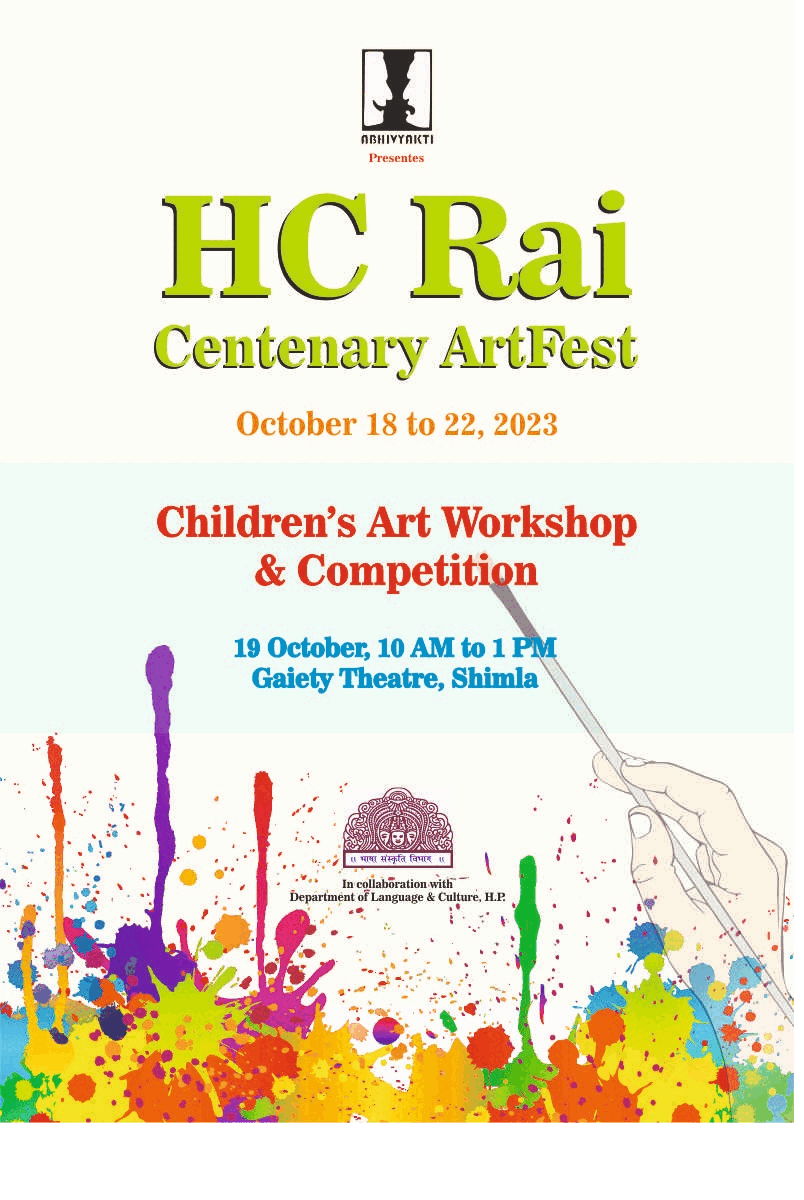 Shimla, Sept. 27 – In a celebration of artistic brilliance and heritage, Abhivyakti, in collaboration with the Department of Language and Culture, H.P., proudly presents the HC Rai Centenary ArtsFest from October 18 to 22, 2023. This illustrious ArtFest pays tribute to the enduring legacy of Late Shri H. C. Rai, a luminary who has etched an indelible mark on Himachal Pradesh's artistic canvas. His remarkable contributions have earned him the prestigious Sardar Soba Singh Lifetime Achievement Award from the H.P. Government. Additionally, he served as the Founder Principal of RKMV College, Shimla, and H.P. Govt. College of Arts, Shimla.
The HC Rai Centenary ArtsFest is set to be a vibrant gathering, featuring various art workshops, competitions, seminars on Art, and a magnificent art exhibition showcasing 250 exceptional works of art. The event will take place at the Tavern Hall and Lalit Kala Akademi Hall in the iconic Gaiety Theatre.
These art workshops promise to empower children by imparting new techniques, encouraging experimentation with their artistic endeavors, and inspiring the innovation of unique styles. The results of the competition will be announced via email the following day.
The grand prize distribution ceremony will be held on October 22, 2023, at 11:00 AM at the Gothic Hall within the Gaiety Theatre.
This ArtsFest promises to be an enriching and artistic experience for all participants, celebrating the rich heritage of Himachal Pradesh and nurturing the creative spirits of its young artists.
Workshop & Competition Details (Limited Seats)
Date: October 19, 2023
Time: 10:00 AM to 1:00 PM
Workshop Time:10:00 AM to 12:00 PM
Competition:12:00 PM to 1:00 PM
Categories:
Junior (Classes 3 to 6)
Senior (Classes 7 to 10)
Medium: Poster colors and Crayons
Last Date for Registration: October 10, 2023
Registration Information:
Kindly send your registration with names and categories to:
– Email: abhivvaktiartculture@gmail.com
– Email: vandanab500@yahoo.com