Chamba, Oct. 19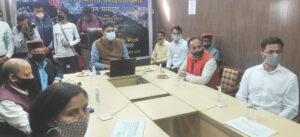 Rakesh Pathania, Minister Forest, Youth Services and Sports said that Wildlife Week plays a very big role in the conservation of wildlife. The Forest Minister said this while presiding over the virtual program organized in Chamba on the occasion of the conclusion of the 69th State Level Wildlife Week organized from October 2 to October 8 in the state today.
Through the video conference room of the National Informatics Center (NIC) in the Deputy Commissioner's office premises, the Forest Minister appreciated the steps being taken by the Forest Department in the direction of conservation of wildlife and said that the Forest Department should make all meaningful efforts in this direction Used to be.
He said that during Wildlife Week, various activities and competitions were organized by the Forest Department to create awareness about conservation and importance of wildlife in the general public. Rakesh Pathania also rewarded the winners of other competitions including painting, slogan writing, essay writing, cinematography, landscape competition, and congratulated them for taking part in these competitions.
He expressed hope that Wildlife Week will be successful in creating such awareness among people about forests and wildlife living in forests, which will lead to a more positive attitude towards the forests and wildlife of the state.
Principal Chief Aranyapal Forest Force Chief Dr. Savita and Principal Chief Aranyapal Wildlife Archana Sharma also expressed their views during the concluding program. The forest minister also released a book and a souvenir written on top of the leopard by forest division officer Sunit Bhardwaj on the occasion. Besides MLA Pawan Nayar and Jialal Kapoor, District Market Committee President DS Thakur, Deputy Commissioner Vivek Bhatia, Chief Forest Aranyapal North Zone Upasana Patial, Chief Forest Aranyapal