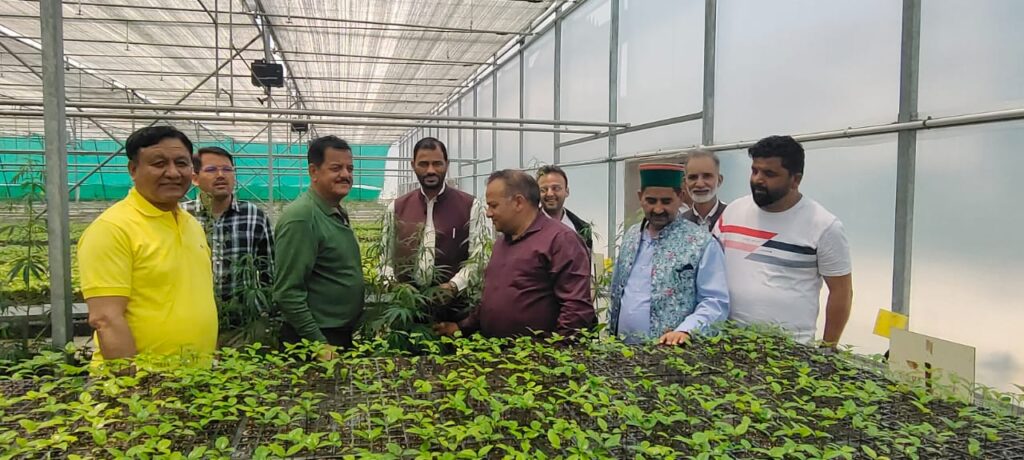 Committee constituted to recommend non-narcotic use of cannabis visits Shailakui Dehradun, Aromatic Plant Center
Revenue, Horticulture and Tribal Development Minister Jagat Singh Negi said that the state government was considering all aspects to start cultivation of cannabis for industrial and non-narcotic use. State Government's committee constituted in this regard, headed by Revenue, Horticulture and Tribal Development Minister, today visited the Aromatic Plant Center at Shailakui in Dehradun.
On this occasion, Jagat Singh Negi said that during the visit to the Aroma Plant Center, the committee obtained detailed information on various aspects for starting cannabis cultivation. Technical information has also been obtained from various experts, he added.
He said that cannabis cultivation not only ensures livelihood but can also be used for industrial and medicinal purposes on a large scale.
During the visit Director Aromatic Plant Center, Nripendra Chauhan, apprised the committee about various technical aspects through virtual presentation. He said that in the year 2022, the global market of industrial hemp was about Rs 5,600 crore, which is expected to increase to about Rs 15,000 crore by the year 2027.
Earlier, the committee also obtained information regarding the state-of-the-art plant nursery, cultivation of medicinal plants, aromatic flowers in the center. The members of the committee also deliberated on the draft prepared by the Plant Center to legalize the cannabis cultivation.
The committee will seek information about the experiences of farmers of Uttarakhand cultivating cannabis.
Chief Parliamentary Secretary Sunder Singh Thakur, MLA Dr. Hans Raj, Surender Shourie, Kewal Singh Pathania, Dr. Janak Raj and Puran Chand Thakur, Advocate Devan, Assistant Commissioner Excise Dr. Rajeev Dogra, Director of Plant Plant Center, Nripendra Chauhan, Scientist Dr. Sunil Shah, Dr. Lalit Agarwal and other officers were present on the occasion.