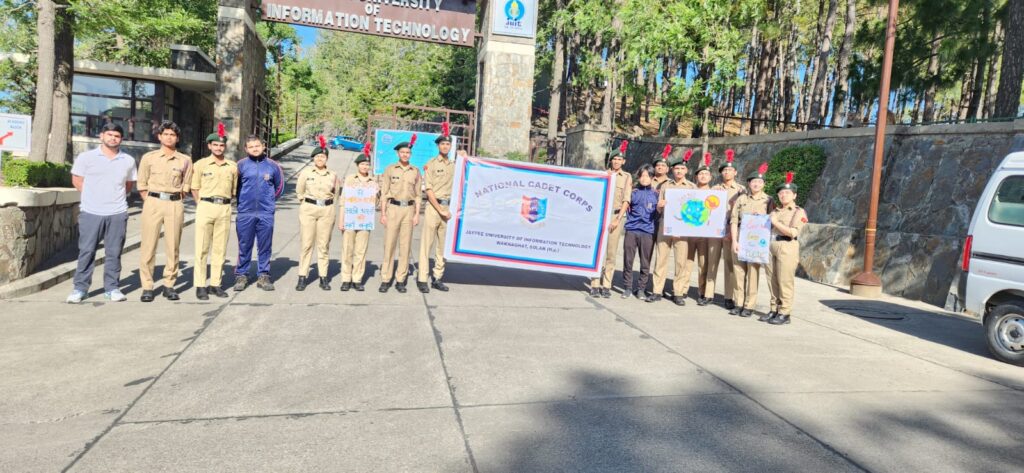 Solan, May 20 Cadets of Jaypee University of Information Technology, Waknaghat
NCC cadets of Jaypee University of Information Technology, organized an awareness rally on "Plastic Free India, Bad effects of Plastic and "Plastic ban for Future" on May 20, 2023. The main aim of this rally is to spread awareness among people to recognize the urgency of the situation. Our country is known for its rich cultural heritage and diverse landscapes. Over the years, the extensive use of plastic has taken a toll on our environment, affecting our ecosystems, wildlife, and even human health. Now, India is taking bold steps towards a plastic-free future, aiming to eliminate the detrimental effects of plastic and pave the way for a sustainable nation. Therefore, JUIT NCC cadets with CTO Dr. Amit Kumar Jakhar plan for this activity in the Waknaghat. The cadets used numerous slogan and quotes to reveal the bad effects of plastic like: Environmental Pollution, Health Hazards, and Waste Management Challenges.
India has implemented a series of initiatives to ban and reduce plastic usage by imposing some key measures on Single-Use Plastic, Plastic Waste Management Rules, Innovation and Research.
India's journey towards a plastic-free future is essential for preserving our environment, protecting our health, and securing a sustainable future for generations to come. By implementing stringent measures, promoting awareness, and fostering innovation, India is taking significant steps to combat the bad effects of plastic. Together, we can build a greener, cleaner, and more sustainable India, where plastic pollution is a thing of the past.
The cadets of JUIT, Solan took an oath to promote awareness and contribute to the "Plastic Free India" campaign and definitely organize such kinds of awareness rallies and contribute to the success of our great nation.