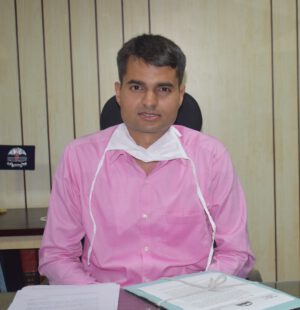 Exemption of land – building tax for 3 years in newly incorporated areas
Mandi, 30 October:
After the decision of the state government to increase the status of the city council market to make it a municipal corporation, a notification has been issued by the Urban Development Department, according to which the area of 11 panchayats adjoining the city council market has been merged and made it a municipal corporation.
4 panchayats have been fully and 7 panchayats partially have been merged. DC Rigveda Thakur said that after considering the suggestions and objections received from the people, the government has now excluded some of the areas previously proposed for inclusion in the Municipal Corporation.
Only areas associated with the proposed development projects for the future have been taken into the municipal corporation. The areas connected with projects like Shivdham, Fourlane and Railway Project and NDRF Battalion have been included in the Corporation. In the coming time, the option of expanding the scope of the corporation according to the needs of the people and the needs of development can be considered.
Completely merged Panchayats include Nella (newly formed panchayat), Sanyard, Baehana and Daundhi that have been fully incorporated in the municipal corporation Mandi.
Apart from this, Bharaun, Talyahar, Bijan, Tung, Bari Gummnu, Chalaha and Bhadayal, parts of these 7 panchayats have been partially included in the municipal corporation.
According to Mohal, it was proposed to include 25 Mohals in the first municipal corporation, out of which 3 Mohals, Manyana, Ardha and Chandayal have been completely excluded. Thus, 22 mohals are now included in the municipal corporation. Out of which 18 mohals have been fully and 4 mohals have been partially incorporated.
Instead of including Bhadyal Mohal in the entire municipal corporation, only the area connected with the Fourlane project has been included in it. This excludes the homes-populated area of the people. At the same time, keeping the wards of Bharaun-1 and Dudar-1 in the Municipal Corporation of Bharaun and Dudar Mohal, which come under the Gram Panchayat Bharaun, wards Bharaun-2 and 3 and Dudar-2 and 3 wards have been excluded. . Ward Nos. 5 and 6 of Chalaha Panchayat are not included in the Municipal Corporation.
Tax exemption for 3 years
The Deputy Commissioner said that the state government has decided to give tax exemption on land and buildings to the people of these new areas joining the municipal corporation for 3 years. Apart from this, the entitlements recorded in the Wajib-ul-Arj of the people will also be protected.