IIAS epitomizes academic excellence and intellectual rigour: Shukla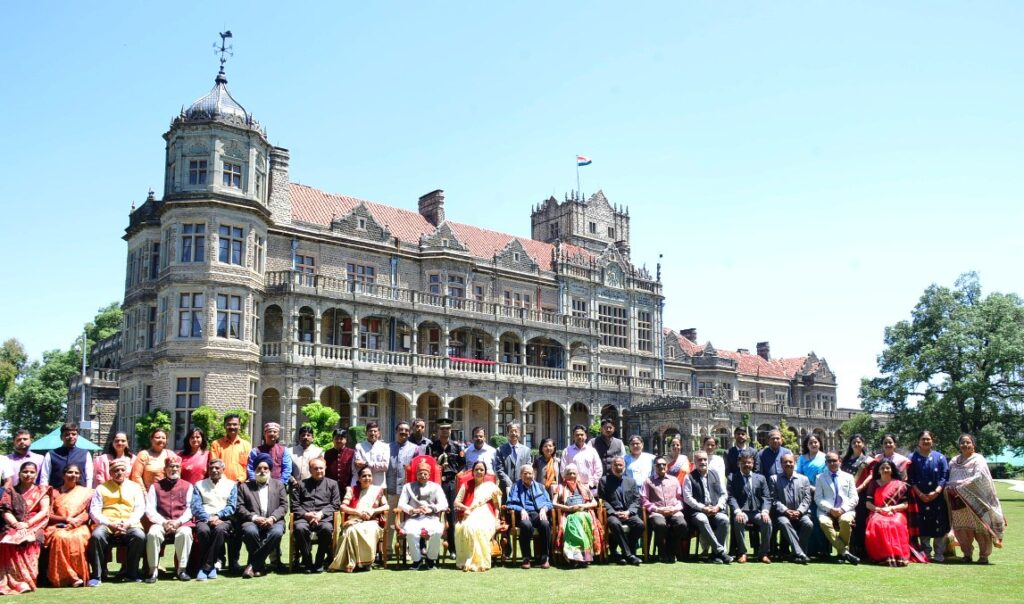 Governor visits Indian Institute of Advanced Study
"Real identity of any institution is neither its building nor its walls, but it always comes from its works. The Indian Institute of Advanced Study (IIAS), Shimla has carved a distinct identity for itself by its academic and research achievements.  The institute has been a symbol of academic excellence and intellectual rigour", said Governor Shiv Pratap Shukla.
 The Governor was addressing the Fellows and Associate Fellows of the Historical IIAS here today.
He said that this institute of national importance is realizing the dream of former President Dr. Sarvepalli Radhakrishnan to restore the ancient tradition of knowledge and learning in India. It has been at the forefront for promoting interdisciplinary research and critical thinking for a long time, he added. It has been a catalyst for innovation and has played a significant role in shaping the intellectual landscape of our country.  He added that this institute was basically devoted to in-depth theoretical research in humanities and social sciences besides fostering the spirit of curiosity and academic brilliance.
While expressing happiness, the Governor said that our research institutions like IIAS were actively working towards realizing the dream of Prime Minister Narendra Modi to promote research.  The institute through its extensive entrepreneurship has accumulated a vast amount of knowledge by organizing lectures by renowned experts of the country and the world through various lecture series, weekly seminars and inter-university centre. 
He said that the library of the institute, equipped with books of about two lakh eminent scholars which is a big treasure of this institute.  He expressed hope that the institute would continue to carry forward the culture of research.  He also emphasized on a separate collection of texts based on Indian languages in the library of the Institute.
 Earlier, the Governor also released two books published by the Institute and two other books of the Central Hindi Directorate.
On the occasion, the Governor visited the picture exhibition, library, Viceroy's office and room and evinced keen interest in the historical importance of the institution.
The Governor also honoured Padma Bhushan Prof.  Kapil Kapoor on the occasion
Chairperson IIAS, Prof.  Shashiprabha Kumar welcomed the Governor and said that the desire for Amritva from the Vedas originated in India.  Amritva means to transform Indian culture through high thoughts to future generations, she added.  She also announced to donate the collection of her books of Sanskrit and Philosophy to the IIAS posthumously.
Director IIAS, Prof. Nageswara Rao, said that the institute is of historical and educational importance, where attention was being paid to research based on Indian traditions.
Former Chairman of the Institute, Prof. Kapil Kapoor also expressed his views on India's knowledge tradition. 
Lady Governor, Janki Shukla, Fellows and Associate Fellows of the Institute, officers of the Institute and other prominent people were also present on the occasion.