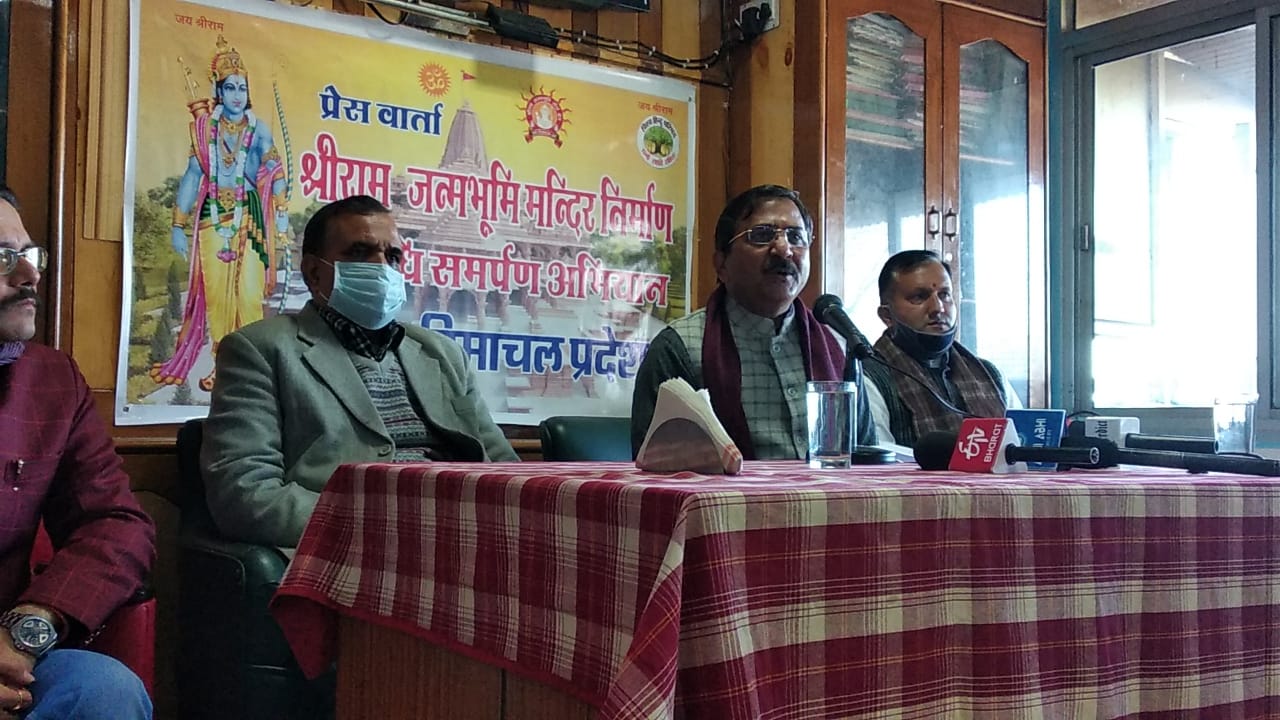 Shimla, Dec. 25 – There is need of contribution by all the Ram bhakt for building the majestic Ram Mandir at Ayodhya. "For the same purpose the workers of Vishva Hindu Parishad along with Hindu saints would start a door to door campaign/drive so that everyone can contribute in the temple building," this was stated by Vijay Shankar Tiwari, National Spokesperson, VHP.
While interacting with media persons in Shimla, Tiwari announced the start of Shri Ram Janmabhoomi Mandir Nidhi Samarpan Abhiyan. He said that the drive will be held from 15th January to 27th February 2021, throughout the country. .
"In HP we have decided 13 lakh people will be approached and 20790 villages will be covered by our team," he said, adding that with the support of people of every caste, creed, sect, region and language of the country, the Ram temple would actually take the form of a Rashtra Mandir. As part of the campaign, the public will also be made aware of the historical significance of the Ram Janmabhoomi movement.
Tiwari said, "People who have donated money will get a proper receipt for their confirmation. Library hall, kitchen and other basic facilities will be provided. Apart from informing people about the significance of the Ayodhya movement, we will also distribute posters and calendars of Lord Ram to each household."
Tiwari told that the preparations are underway to construct the temple. Engineers from IIT Mumbai, IIT Delhi, IIT Chennai, IIT Guwahati, CBRI Roorkee, Larsen and Toubro and Tatas are working on the foundation drawing. The foundation configuration and layout will come out soon. The entire temple would be made of stones. The temple complex is 108 acre in area. In order to maintain transparency in the financial dealings and transactions, the trust has printed coupons and receipts of denominations of 10, 100 and 1000 rupees.
Justice Surinder Singh Thakur, committee president, and Lekhraj Rana, general secretary would fulfill their responsibilities in Himachal. Veer Singh Rangra, Sunil Jaiswal, Ajay, Om Prakash, Tushar Dogra and other office bearers were also present.