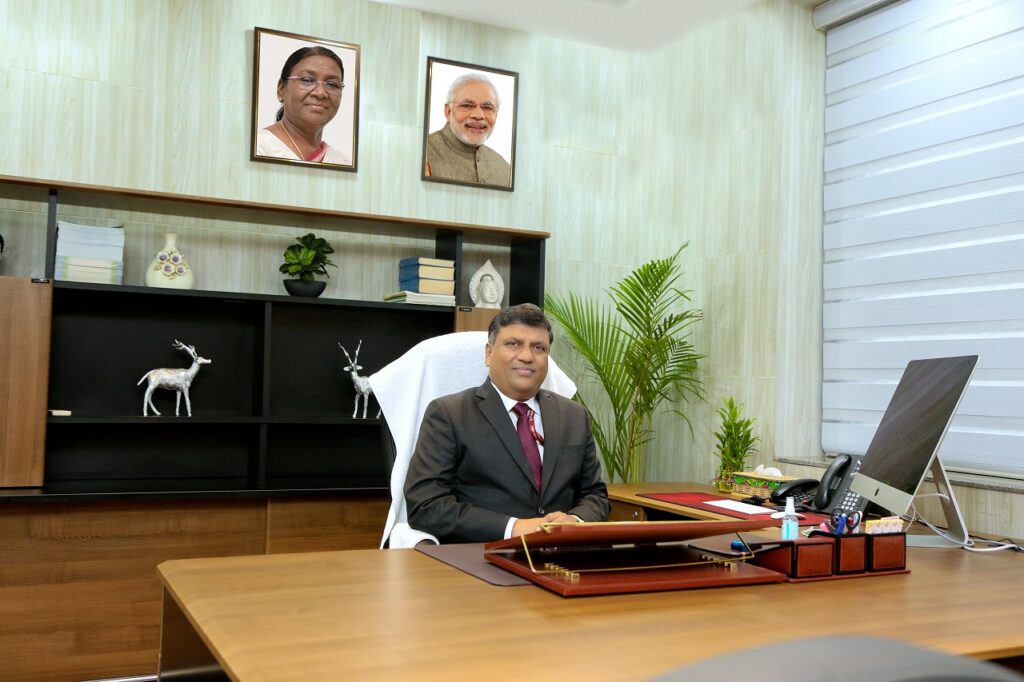 Aims to Foster Sports Excellence and Holistic Development
Under the patronage of THDC India Limited, a prestigious Schedule-A Mini-Ratna Public Sector Undertaking, the highly-anticipated "Tehri Water Sports Cup 2023" commenced on September 14, 2023, and will run through September 17, 2023, in Tehri. The inauguration of this prestigious championship was graced by Subodh Uniyal, Hon'ble Minister for Forest, Language, Election, and Technical Education (Government of Uttarakhand). The event also saw the presence of Sh. Kishor Upadhyay, MLA Tehri-Garhwal, Sona Sajwan, Chairman, District Panchayat Tehri-Garhwal, and other eminent dignitaries.
In his address, Subodh Uniyal praised THDC India Limited for organizing this remarkable national-level sports event, highlighting THDC's commitment to both powering the nation and fostering sports excellence. He emphasized that such sporting events serve as invaluable platforms that promote sportsmanship and endurance among participants.
Bhupender Gupta, Director(Technical) of THDC, underscored THDC's unwavering commitment to holistic societal development and inclusivity across India. He emphasized THDC's dedication to organizing prestigious national and international sports events like the Tehri Water Sports Cup-2023. This competition holds significant importance as it serves as the qualifying tournament for the upcoming National Senior Category Men's and Women's Kayaking and Canoeing Championship scheduled to be held in Goa later this year.
Gupta also lauded the visionary leadership of R. K. Vishnoi, Chairman and Managing Director of THDCIL, highlighting THDCIL's pivotal role in meeting the nation's energy requirements while giving paramount importance to sustainable societal development.
Approximately 450 male and female athletes from 28 states and services are participating in this competition, aiming to qualify for the National Games 2023. THDCIL is organizing this event in technical collaboration with ITBP, with support from the Department of Sports and Tourism, Government of Uttarakhand, local police, administration, Indian Kayaking and Canoeing Association, and Uttarakhand Olympic Association.
R. K. Vishnoi, Chairman and Managing Director, THDCIL, announced the establishment of a High-Performance Academy in Tehri with an estimated cost of approximately Rs. Four crore. This academy will provide comprehensive support to talented athletes aged 13 to 17 years in Uttarakhand, including food, clothing, training, accommodation, medical facilities, and school services, enabling them to excel nationally and internationally in sports. Additionally, a 10% quota for these athletes will be reserved at the Koteshwar Dam complex.
Vishnoi also revealed plans for an International Sports Exchange Programme, facilitating mutual training and technical expertise for Indian and foreign athletes. This initiative aims to prepare State and National athletes for international competitions, generate local employment opportunities, and boost tourism. The High-Performance Academy will initially admit 15 male and 15 female trainees, with further recommendations based on performance.
These initiatives mark a significant stride in nurturing sporting talent, promoting cultural exchange, and enhancing Uttarakhand's presence on the national and international sports stage. They promise to create substantial employment opportunities and stimulate tourism, fortifying both the sporting and economic landscape.
The Tehri Water Sports Cup-2023 reflects THDCIL's commitment to blending sports with societal progress under the visionary leadership of R. K. Vishnoi, CMD THDC.