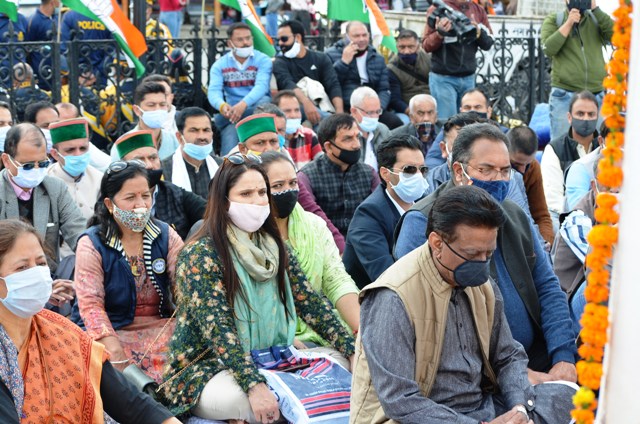 Shimla, 31 October 2020.
To protect the right of the country's farmers, Congress President Kuldeep Singh Rathore along with the party workers performed the Satyagraha by fasting on the Ridge Maidan in front of the statue of Indira Gandhi on Farmers' Rights Day here today.
Rathore said that the Congress is in the fray to fight for the interests of farmers. He said that the laws that Congress leaders had enacted to improve the condition of farmers after the independence of the country are being replaced by new anti-farmer laws, which are worrying farmers all over.
Rathore criticized the central government, saying that it is playing with the interests of the farmers of the country in a big way by trying its best to enslave farmers under moneylenders and big companies. He said this while talking to the media today on the death anniversary of the first woman Prime Minister of the country, Indira Gandhi and the birth anniversary of Iron Man Sardar Vallabhbhai Patel.
Paying his tribute to the late Indira Gandhi, Rathore said that it was result of her strength that carried the country forward and made her known as the leader of the world. By means of an Ordinance, the Indira-led Congress government nationalized 14 commercial banks of the country that controlled 70% of the country's deposits, which then directly came under the control of the central government. She declares war against Pakistan, supporting East Pakistan to gain freedom to form a new country Bangladesh and because of all this, she came to be known as Iron Lady. He said that even today, Indira Gandhi is the inspiration of the country, who even sacrificed her life for the unity and integrity of the country.
Recalling the iron man Sardar Vallabhbhai Patel, Rathore said that Patel, who became the first Home Minister of the country, strengthened the country by unifying the small princely states of the country.