Regular classes from Nov. 2 for class IX – XII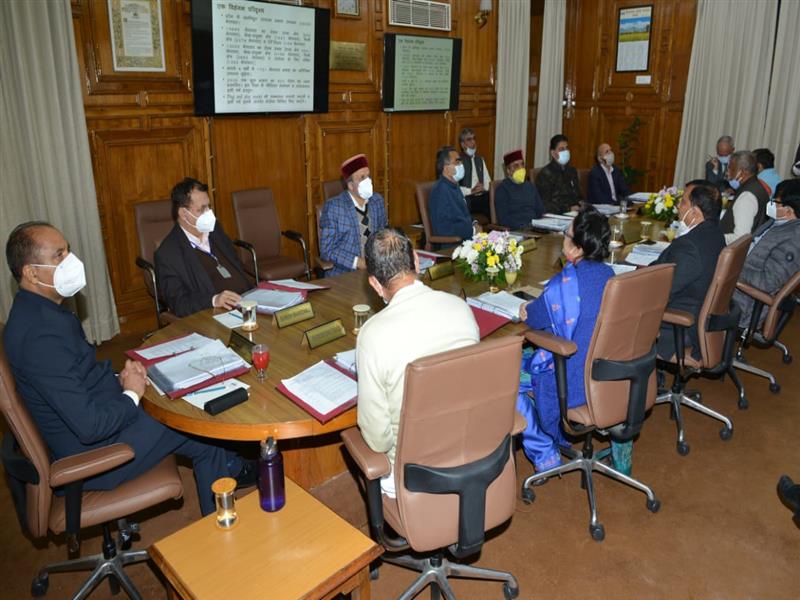 Shimla, Oct 27 –
The Cabinet decided to conduct regular classes from 9th to 12th standard in educational institutions of the State from 2nd November, 2020 besides colleges of the State would resume classes by following the SOP/guidelines of Ministry of Home Affairs, Government of India.
The Cabinet decided to exempt land and buildings in newly included areas of these Urban Local Bodies from payment of general tax for a period of three years and to retain the customary rights as provided in the Wazib-Ul-Urz in the record of rights.
It also decided that election to the ULBs in the State (including newly created Nagar panchayats) and newly created Municipal Corporations of Mandi, Solan and Palampur would be conducted in January, 2021 after consultation with State Election Commission. The elections to Municipal Corporation Dharamshala shall also be conducted with all ULBs in January 2021 to avoid repetitive elections and associated expenditure. The elections for Shimla Municipal Corporation will be conducted in due course in 2022.
The Cabinet also decided to restore the 'Janmanch' Programme from 8th November this year to ensure speedy redressal of public grievances nearer to their homes.
The Cabinet gave its nod to fill up 1334 vacant posts of Constables which includes 976 male and 267 female and 91 drivers on regular basis through direct recruitment.
The Cabinet decided to raise the honorarium of IT teachers engaged on an outsource basis in the Education Department by 10 percent from 1st April 2020. This would benefit 1345 IT teachers.
It gave its approval to provide an extension in services of already engaged SMC teachers of various categories in Elementary and Higher Education Departments for the academic session 2020-21 and their remuneration may also be disbursed to them for the academic session 2020-21 subject to final outcome of Special Leave Petition (Civil) pending in Hon'ble Supreme Court.
It gave its nod to allow one-time amnesty by redefining zero date for projects which are under investigation and clearance stage where Implementation Agreements (IAs) have already been signed and by redefining Scheduled Commercial Operation Date (SCOD) for projects under construction stage. This decision will benefit 221 power projects having total capacity of 1060 MW.
The Cabinet gave its consent to fill up 32 posts of leading fireman, 11 posts of driver cum pump operator in newly opened Fire Posts at Sansarpur Terrace in Kangra district, Bhawanagar and Sangla in Kinnaur district and Patlikuhal in Kullu district.
It decided to create and fill up 22 posts of Copyists in 22 Subordinate Courts of the State on regular basis.
The Cabinet gave its nod to fill up 9 posts of different categories in State Food Commission for its smooth functioning.