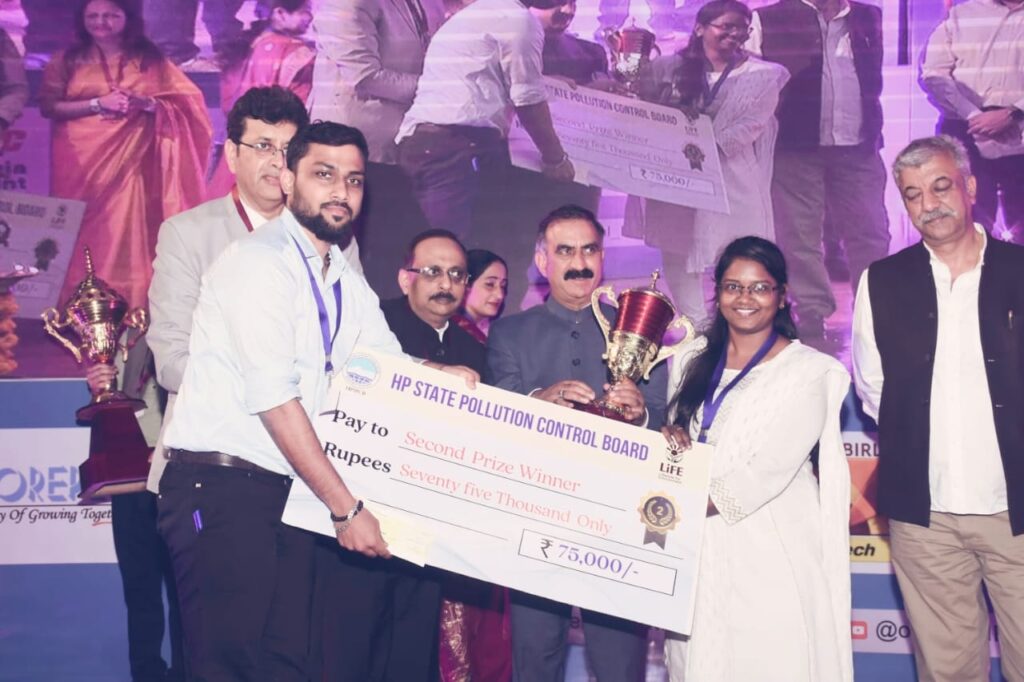 Solan, June 06
The solid waste management plan of two doctoral students of the Department of Environmental Science, Dr. YS Parmar University of Horticulture and Forestry, Nauni bagged the second prize at the Hackathon-Ideation event conducted by the Himachal Pradesh State Pollution Control Board on the occasion of World Environment Day held on Monday. The students- O Sadish and Priyanka, under the chairmanship of Dr. Satish Kumar Bhardwaj, HOD, Department of Environmental Science, bagged the prize.
The award along with a cash prize of Rs 75,000 was presented to the students by Himachal Chief Minister Shri Sukhwinder Singh Sukhu during the Environment Day celebrations, in which innovative ideas in waste management were presented.
Over 250 participants from different universities and colleges of Himachal Pradesh applied for the Hackathon, out of which 12 teams were selected for the 1st round. The students made their presentation before the committee on 30th May 2023 and were selected in the final round involving the top 5 teams. On Monday, students, academicians, scientists, and industrial stakeholders gathered together to celebrate World Environment Day organized by the Pollution Control Board, wherein the final presentations were made. The presentation was evaluated by an expert panel of judges.
The team from Nauni presented their idea on 'Sustainable Circular bioeconomic strategy for solid waste management in Himachal Pradesh'. Sadish and Priyanka gave an innovative idea wherein the solid waste generated in the state could be thermochemically processed to produce carbon-rich valuable products like Hydrochar and Biochar. These useful materials obtained from waste can be used as an alternative energy source, filter for wastewater treatment and organic nutrient fertilizer for agriculture. Eventually, processing units can be installed at the panchayat level, so that the circular bioeconomy could be achieved among local communities in a sustainable manner with this new waste management technology.
Sadish has attained one research expertise at Queen's University Belfast in the UK under the Commonwealth Fellowship recently. Priyanka who has also worked on Biochar, is also a recipient of the UGC JRF fellowship.
University Vice-Chancellor Professor Rajeshwar Singh Chandel congratulated the students on their novel idea and their efforts to give new innovative technology to the state for waste management. He added that the university has also taken several steps in solid waste management and a solid waste management plant has been established at a cost of Rs 28 lakh under the green initiative of NAHEP IDP. The solid waste is being converted into compost. The quality parameters have been checked and all the microbial activity and major heavy metals have been found to be within permissible limits.
Dr CL Thakur, Dean COF; Dr SK Bhardwaj and the staff and students of the Department congratulated Sadish and Priyanka on their achievement.