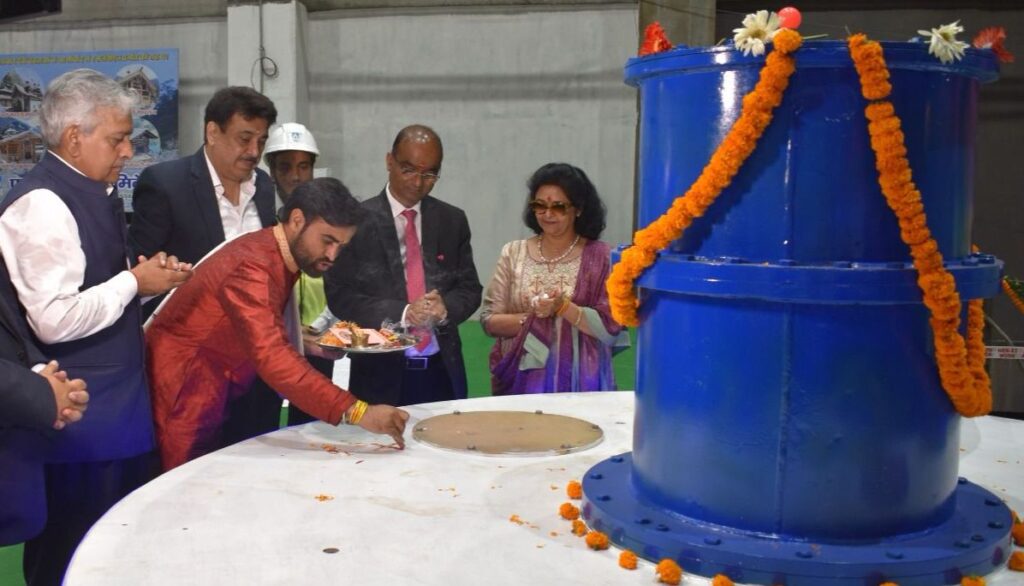 SHIMLA : September 27, 2023
Nand Lal Sharma, Chairman & Managing Director, SJVN with the press of a button, commenced the Mechanical Spinning of Unit-I of 60 MW Naitwar Mori Hydro Electric Project (NMHEP) at Mori, Uttarakhand today.
Nand Lal Sharma stated that the spinning of Turbine Generators and associated auxiliaries with water flow marks the final preparations for synchronization of the Units. The Barrage and Head Race Tunnel have been filled with water as per procedural guidelines for filling of the hydro project components.
During his visit to the project sites, Sh. Nand Lal Sharma visited Barrage, Power Intake, Desilting Tanks, Machine Hall and Switchyard. Sh. Sharma inaugurated the newly constructed Temple in the premises of Yamuna Parisar and performed puja & havan. He was accompanied by Geeta Kapur, Director (Personnel), A.K Singh, Director (Finance), Sh. Sushil Sharma, Director (Electrical), J.S Nayyar (Head of Project) and senior officials of the company.
While addressing the employees, contractors and the workers, Sh. Nand Lal Sharma appreciated their efforts in bringing the project to the commissioning stage. He said that this momentous achievement has brought us one step closer to harnessing the immense hydro power potential of Uttarakhand.
The 60 MW Naitwar Mori Hydro Electric Project is Run off the river project designed to harness energy from river Tons in Uttarkashi district of Uttarakhand. The project will generate 265.5 million units of electricity annually. SJVN has constructed a 37 km 220 KV Transmission Line for evacuation of power from Naitwar Mori HEP from Bainol to Snail.
Project is working for overall development of the area with infrastructure development and generation of direct & indirect employment. Under Corporate Social Responsibility of SJVN, Various developmental works such as Satluj Sanjeevani Mobile Health Van, Skill Development Training programs, promotion of Sports and Cultural heritage, Infrastructural works are benefitting the region.
This achievement reaffirms the commitment of SJVN to harness the energy from non-fossil fuel sources. Marching towards sustainable future, SJVN aims to be 50000 MW company by 2040