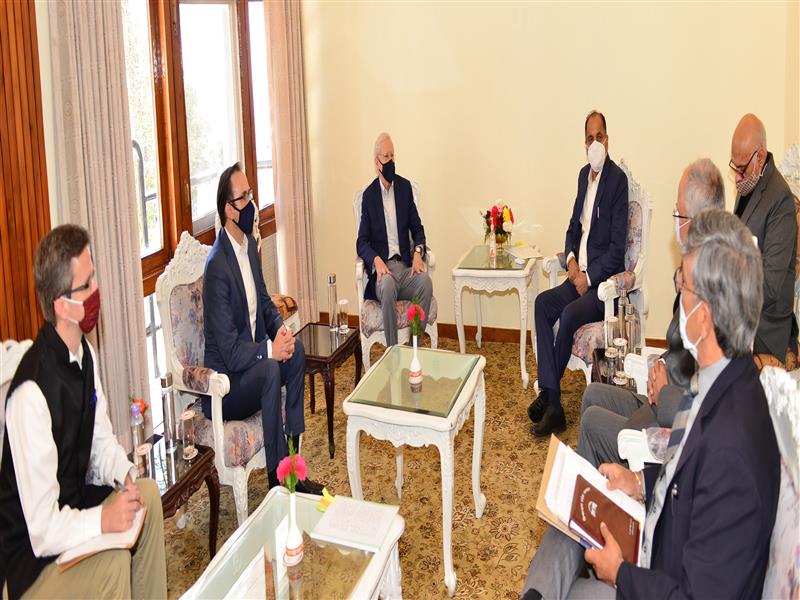 Shimla, Nov. 6
India-U.S. bilateral relations have developed into a "global strategic partnership", based on shared democratic values and increasing convergence of interests on bilateral, regional and global issues thus creating an opportunity to reinvigorate bilateral ties and enhance cooperation in various spheres. This was stated by Chief Minister Jai Ram Thakur while interacting with Ambassador of United States of America (USA) in India Kenneth I. Juster, here today.
Jai Ram Thakur said that Himachal Pradesh had been bestowed with immense natural beauty and grandeur thereby providing ample opportunities to the entrepreneurs to invest in various sectors in the State. He said that the serene atmosphere and eye-catching valleys of the State allured the tourists to visit Himachal Pradesh frequently.
Chief Minister said that the topography of Himachal Pradesh was quiet similar to Colorado and California State of USA and this offered immense opportunity in mutual cooperation in the field of tourism. He said that US Companies can invest in ski resorts, ski lifts, development of ski slopes in Chanshal valley of Shimla district, development of international water sports activities in the Pong Dam reservoir in Kangra district and development of theme Park in Jhatingari and ropeway up to Shikari Mata in district Mandi.
Jai Ram Thakur said Himachal Pradesh also has immense potential in horticulture and allied sectors. He said that there is also vast scope of investment in other sectors such as establishing cold storage, CA stores, pack houses, processing units etc. He said that he had personally participated in a webinar with US-India Business Council on 26th June, 2020 and had detailed discussions with delegates regarding investment opportunities in the industrial sector.
Chief Minister said that the State Government had successfully organized 'Global Investors Meet' at Dharamshala in November 2019 to attract more investments in various fields like tourism, power, health, industries, Information Technology, etc. He said that as many as 256 MoUs worth Rs. 17541 crore were signed in the tourism sector alone.
Jai Ram Thakur said that Himachal Pradesh has emerged as a strong contender for setting up of 'Bulk Drug and Medical Device Park' in the State. He said that several American companies were already engaged in the production of formulation drugs in the State. He urged the US Ambassador to motivate Bulk Drug and Medical Device Companies of the United States to invest in the State. The State was also emerging as an 'Industrial Hub' of the Country and US companies can play a major role by investing in electrical and power equipment to make Himachal Pradesh a pioneer State in this sector, he added.
Chief Minister said that bilateral relations between India and the USA have further strengthened during the tenure of Prime Minister Narendra Modi.
US Ambassador to India Kenneth I Juster said that India and the US shared a strong cultural and trade relations for decades together. He said that he would help in showcasing the huge potential available in Himachal Pradesh for investment.