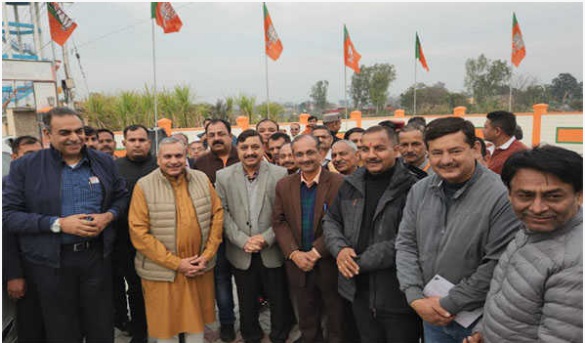 Hamirpur/Una, Feb 3 – The Himachal Pradesh BJP unit has decided to frame a road map for the 2024 Lok sabha elections in the state during its three days state-level executive committee meeting starting in Una on Friday night.
Suresh Kashyap, the state BJP chief, after reaching Una said that it will be the first time that the State Working Committee meeting will be held in the Una district office.
He said that the party was sure to win all four Lok Sabha seats in the state next time too.
He said that BJP National Vice President Saudan Singh, State Incharge Avinash Rai Khanna, Co-in-charge Sanjay Tandon, Leader of Opposition Jairam Thakur, Union Minister Anurag Thakur, former Chief Minister Professor Prem Kumar Dhumal and Shanta Kumar had arrived and would give their guidance and suggestions in the meeting.
He said that the meetings of BJP's core group followed by a meeting of state office bearers will be held on the first two days. The working committee meeting will start thereafter and end on February 5th.
Kashyap said that many organizational issues would be discussed in the meeting and the political situation at the centre and the state will also be discussed in detail, BJP is also going to take important decisions from the point of view of preparations for the Lok Sabha poll. A political resolution will also be passed on all these subjects.
Data management and booth empowerment and Lok Sabha migration programs will also be discussed in detail in the meeting.
He said that the way the Congress party government was working; had spoiled the entire atmosphere and was working on the agenda of revenge with opponents.
Kashyap said that the BJP was a disciplined political party and would take indiscipline seriously. He said that the matter came to the notice of the party that some leaders of the party had worked against its candidates in the 2022 assembly elections, for which the BJP was taking strict action.
If there is any kind of indiscipline, BJP will not tolerate it and work for the well-being and welfare of the people.
Language & Culture Dept, HP in Partnership with Keekli Presents: मीमांसा — Children's Literature Festival 2023