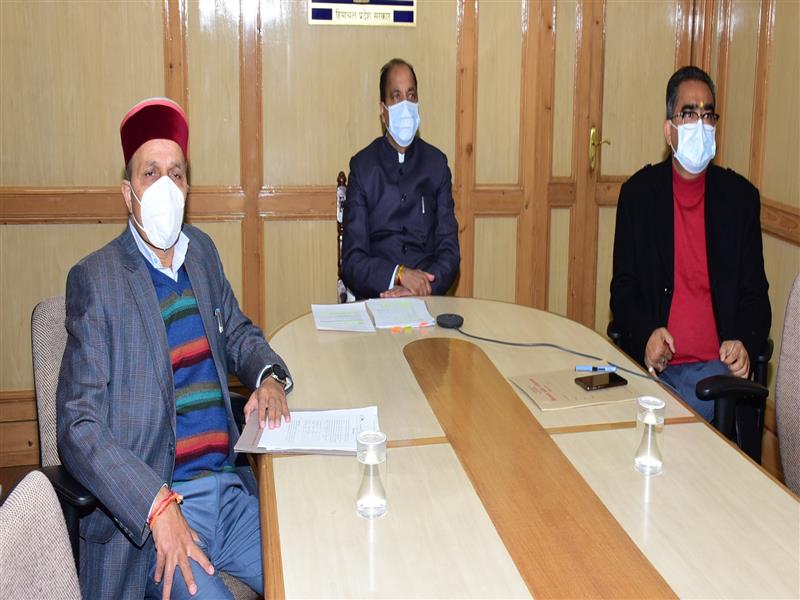 Shimla, Dec. 8 –
Chief Minister Jai Ram Thakur inaugurated and laid foundation stones of developmental projects worth about Rs. 94 crore in Shimla Rural Vidhan Sabha area of Shimla district through video conferencing from Shimla today. He also inaugurated the BDO Office at Totu in Shimla Rural Assembly Constituency of Shimla district.
Chief Minister inaugurated 12 developmental projects worth Rs. 40.27 crore, which includes science block at Government Senior Secondary School, Dhami constructed at a cost of Rs. 1.65 crore, building of Government Senior Secondary School, Shakrah constructed with an outlay of Rs. 2.20 crore, Rs. 2.42 crore Primary Health Centre building at Ghanahatti, Rs. 1.47 crore Primary Health Centre building, Sharda, Rs. 1.43 crore Primary Health Centre building Mandorghat, Rs. 1.32 crore Primary Health Centre building Basantpur, Rs. 5.46 crore ITI building at Dargi, Rs. 5.14 crore ITI building at Sunni, Rs. 8.54 crore bus stand Sunni, Rs. 6.66 crore combined office building, Dhami and Rs. 3.97 crore Lok Nirman Bhawan, Dhami.
Jai Ram Thakur also laid foundation stone of 11 projects worth about Rs 53 crore which includes Rs. 4.74 crore Lift water supply scheme Basantpur Kalvi, Nadukhar, Gharat Nala in Sunni Jal Shakti Sub Division under Jal Jeevan Mission, Rs. 8.23 crore lift water supply scheme from Bagharu khad to Talosh gram panchayat Majhiwar, Devala and Gumma, phase-I and Lift Water Supply Scheme Nayaser Khad to Dhar, Tikkar etc. gram panchayat Neen, Gheeni and Baldeyan, phase-II, tehsil Sunni under Jal Jeevan Mission, Rs. 4.29 crore Lift Water Supply Scheme from Pandoa khad to Kail Bagri, Himari in tehsil Sunni under Jal Jeevan Mission and Rs. 1.97 crore lift water supply scheme Taloti Khatnol, Gram Panchayat Khatnol in Sunni tehsil under Jal Jeevan Mission.
Chief Minister also performed foundation stone laying ceremonies of rain water harvesting structure over Kuhni khad in Gram Panchyat Dhamoon in Shimla tehsil to be constructed with an outlay of Rs. 7.50 crore, lift water supply scheme from Salana nallah to Salana basti in gram panchayat of Thari of Shimla tehsil to be built at a cost of Rs. 85 lakh, Rs. 96 lakh Lift Irrigation Scheme Seri Charund in Gram Panchayat Baloh in tehsil Shimla, Rs. 5.80 crore water supply scheme from Sainj Khad to Gharog Ghandal and through various LWSS to left out villages of Dhamoon, Shilli, Baggi, Chanog, Kahla, Sayri, Anandpur, Jalel, Kot, Rampuri, Thari panchayats under Jal Shakti Vibhag Section Jubberhatti and Section Taradevi in Shimla tehsil, Rs. 50 lakh Lift irrigation Scheme to village Khalag Jhakri, Khairi and its adjoining villages in Gram Panchayat Dhamoon, Rs. 2.26 crore Lift Irrigation Scheme for Chadow Chadoli Bhad etc. and other group of villages in Gram Panchayat Anandpur in Shimla tehsil and Rs. 15.74 crore water supply from Sainj khad to left out villages/panchayats viz. Shakrah, Devnagar, Okhroo, Totu Chailli etc. in Shimla tehsil.
While addressing the people through video conferencing, Chief Minister said that the State Government was ensuring that the pace of development goes uninterrupted thus that the Government has decided to go for online inauguration and foundation stones of various developmental works.
Chief Minister said that Jan Manch and Chief Minister Helpline 1100 have been proving boon to the people of the State in redressal of their grievances at their doorsteps. He said that 50,000 complaints have been redressed in Janmanch and over 1.18 lakh complaints have been redressed through Chief Minister Helpline 1100. He said that the Government would take strict action against the persons making fake calls and false allegations on this helpline. He said that that the very first cabinet meeting of the present State Government, it had lowered the age limit for availing the benefits of old age pension without any income limit from 80 years to 70 years. He said that this decision has benefitted about 2.90 lakh old people of the State.
Jai Ram Thakur said that under the HIMCARE scheme as many as 1.22 lakh people of the State have been benefitted till date. He said that under Sahara Yojna Rs 3000 per month was being provided to the families with chronic ill patients. He said that Ujjwala Yojna of Central Government and Grihini Suvidha Yojna of the State Government had ensured Smoke Free Himachal. He said that as many as 2.86 lakh gas connections were provided in the State under the Grihini Suvidha Yojna. He said that Mukhyamantri Swavlamban Yojna has proved a boon to the youth of the State in starting their self employment ventures. He also detailed several historic decisions taken by the Union Government under able leadership of Prime Minister Narendra Modi.
Chief Minister said that Block Development Office at Tutu would help the people of the area in getting various services nearer to their homes. He said that the State Government had provided funds to all these projects which were dedicated to the people today as the previous government had only made announcements in this regard.
Jai Ram Thakur announced Rs. 1.11 crore for construction of Dhami bus stands and said that the work on this project would be started at the earliest.
MP Shimla and State President BJP Suresh Kashyap said that the State has witnessed around and balanced development of the State during the present tenure of the State Government. He said that the double engine of the Centre and State Governments have ensured much-needed acceleration in the pace of development in the State.
BJP candidate in 2017 Vidhan Sabha Elections Dr. Pramod Sharma thanked the Chief Minister for inaugurating and laying foundations stones of various projects for the area. He said that Chief Minister was always concerned about the development and welfare of the people of the State.
District BJP President and Chairman Kailash Federation Ravi Mehta while welcoming the Chief Minister and other dignitaries said that the Vidhan Sabha has witnessed unprecedented development during the last three years.
Information and Technology Minister Dr. Ram Lal Markanda and Industries Minister Bikram Singh were present at Shimla with the Chief Minister, whereas Agriculture and Rural Development Minister Virender Kanwar joined the event online.