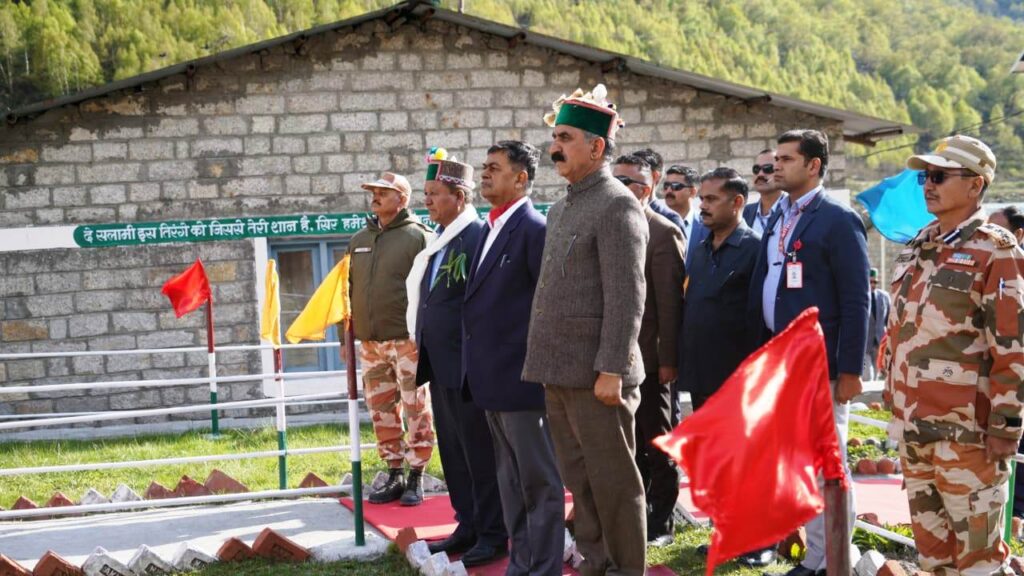 Participates in Vibrant Village programme, with Union Power Minister
Union Power Minister, R.K. Singh and Chief Minister, Thakur Sukhvinder Singh Sukhu today participated in an interaction programme organised under Vibrant Village Programme at Chitkul in District Kinnaur.
During the interaction programme organised under the Vibrant Village programme, the Union Power Minister and Chief Minister interacted and listened to the grievances of the local villagers. The people were also assured that all their genuine demands would be considered on priority.
Union Power Minister while addressing the gathering said that the Vibrant Village programme is an initiative of the Union Government to strengthen the infrastructure facilities in Northern border and to provide all facilities at par with cities. He said that Chitkul, Pooh, Nako, Leo and Chango villages of district Kinnaur will be developed under the Vibrant Village Programme.
Union Minister said that a Central Public Sector Undertaking (CPSU) will adopt Chitkul Village and assist the State government in development of the this Vibrant Village. He said that one mega watt power plant would be established in Chitkul and possibility of setting up of micro hydel projects on rivulets of the area would also be explored. He said that to promote the rich cultural heritage of the area and tourism activities, a cultural and tourist centre would also be established at Chitkul.
While interacting with the local villagers, the Chief Minister said that the State government was determined towards upliftment of the rural populace, especially that of tribal areas and was according top priority for it.  He said that the entire Himachal Pradesh has rich cultural heritage but the cultural heritage of tribal areas has its own distinct identity, which attracts people from all over the world.
He also thanked the Union Power Minister for his visit to Himachal Pradesh.
While announcing to start bus service from Chitkul to Mandi the Chief Minister also assured to consider the demand of providing community hall, bus stand along-with parking facilities and construction of mini stadium at Chitkul sympathetically.
Later, the duo also visited the 2nd Indo Tibetan Border Police (ITBP) Battalion post at Nagasti and interacted with ITBP officers and Jawans. Earlier, the Union Power Minister and Chief Minister were also accorded a warm welcome by district administration on their arrival at Kuppa.
Revenue Minister, Jagat Singh Negi welcomed the Union Power Minister and Chief Minister on this occasion.
 Principal Advisor to Chief Minister, Ram Subhag Singh, District Congress Committee President Umesh Negi, Deputy Commissioner, Torul Raveesh, Superintendent of Police, Vivek Chahal, representatives of panchayati raj institutions and other prominent dignitaries of the district were also present on the occasion.