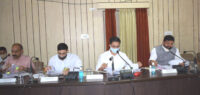 Establish coordination with progressive farmers in matter of seeds being made available to farmers
There will be a solution to the problem of fodder faced by livestock
Chamba, 16 October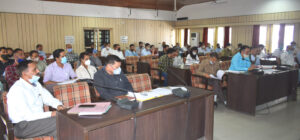 Vidhan Sabha Deputy Speaker Hansraj said that during the current financial year an amount of 79 crore 3 lakh 87 thousand rupees is being spent in the district on the implementation of basic development and welfare schemes related to the Scheduled Castes community under the state plan.
He was speaking while presiding over the Scheduled Caste Welfare Committee meeting held at Bachat Bhawan Chamba today. He also said that a budget provision of Rs one crore 47 lakh has been made under centrally sponsored schemes.
During the meeting, the Legislative Assembly Vice-Chairman reviewed the schemes being implemented through the Department of Agriculture and said that the district must coordinate with the local progressive farmers in determining the variety and brand of seeds to be made available to the farmers for various crops. Go He also issued instructions to send the matter to the Deputy Commissioner to increase the rate of subsidy on seeds being provided by the department.
Hansraj asked the Additional Deputy Commissioner to review the assessment made by the Revenue and Forest Department to resolve the problem of fodder arising in the district due to drought. He issued instructions to the Deputy Director of Animal Husbandry Department to prepare an action plan to provide subsidy to the cattle rearers in respect of the fares of the trains in lieu of fodder from Punjab within a fortnight.
The Legislative Assembly Deputy Speaker asked the Land Conservation Officers to form DPR in consultation with the concerned MLAs through MNREGA Convergence for land conservation works in important places of the district.
Reviewing the progress under the Chief Minister's Farm Protection Scheme, he stressed on increasing awareness and awareness among farmers. Hansraj instructed the Department of Water Power, Horticulture and Agriculture to formulate an action plan through convergence with a focus on cluster-based schemes.
He asked the forest department to conduct various activities throughout the district under the scheme named after a buta daughter.
The Superintending Engineer of the Public Works Department informed in the meeting that the construction of various roads and bridges under the sub-plan in the district is in progress. He informed that departmental formalities are being completed for the construction of the proposed Mini Secretariat building in Sub-division Churah. The Vidhan Sabha Deputy Speaker also directed the concerned department to start the process for the construction of the police station Teesa.
During this, Deputy Commissioner Chamba Vivek Bhatia said that for the successful implementation of the Scheduled Castes sub-plan, it will be necessary to give details including prescribed budget changes in development plans or reasons in other cases under the new guidelines set by the state government.
He assured the Deputy Speaker of the Assembly that all departments would be ensured to work within the stipulated time frame in successful implementation of the scheme.
In the meeting, District Welfare Officer Narendra Jaryal kept a record of the achievements made by all departments related to the sub-plan.