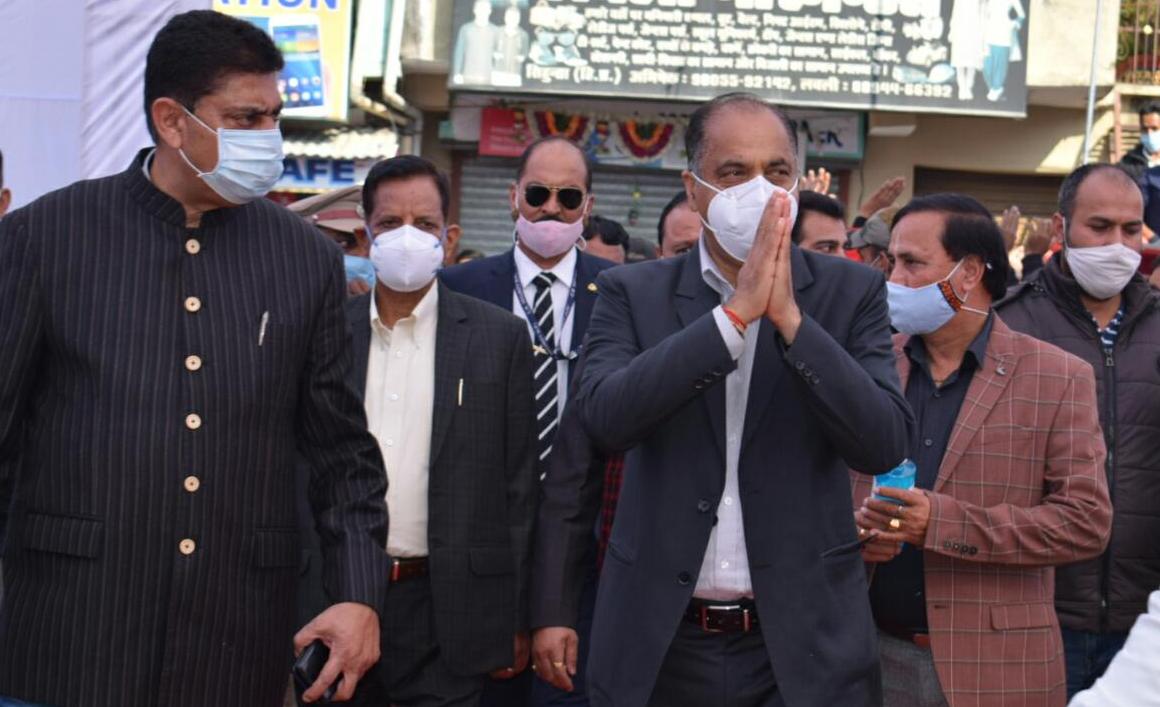 Chamba, Nov. 11
Prime Minister Narendra Modi deserves all praise for his dynamic leadership as he is successfully steering the Country amid all troubles and difficulties. Decade long dilemma of Articles 370 and 35 (A), the Ayodhya Issue and all other thorny problems have been solved effectively. He has successfully brought the Nation out of Covid-19 crisis. This was stated by Chief Minister Jai Ram Thakur, while addressing a public meeting at Sihunta under Bhatiyat Assembly Constituency today.
Chief Minister said that the whole country is following Modi without any doubt as they have strong believe in his dynamic leadership. It is due to strenuous efforts of the Prime Minister that PPE Kits, which were not manufactured in the country before the attack of Covid-19, today 5 lakhs PPE kits a day are being prepared in the country.  It was due to vibrant and energetic leadership of Modi that the people of Bihar again voted in favour of NDA. He urged the people of the State to take all precautions in the fight against Corona Virus as vaccine still is not available.
Earlier, he laid foundation stones of various developmental works at Sihunta Chowgan costing Rs. 48.77 crore. These works included up-gradation of Naini Khadd to Samleu Road at a cost of 24.62 crore and Samote to Dramnallah Road at Rs. 9.38 crore, construction of 33.50 meters span steel bridge over Kaned Nallah to Naini Khadd Chuhan Road worth Rs. 3.21 crore and 25 meters span RCC box girder bridge over Maled Khadd on Chowari Kainthaly Road at Rs. 1.89 crore, remodeling of Flow Irrigation Scheme: Chakki Khadv Raipur Kuhl worth Rs. 4.25 crore and remodeling of Flow Irrigation Scheme Khaggal, Sihunta at Rs. 5.42 crore.
All stranded Himachalis in various parts of the country including Kota, Bangluru, Goa, Chandigarh and Delhi were brought back to the State safely by the State Govt. About 2.5 lakh people were tested and quarantined accordingly before sending to their homes. A special session of Himachal Vidhan Sabha was convened at the behest of the State Congress Party. But, it could not present or discuss any concrete issue on the floor of the house. He asked the Congress party not to indulge in petty politics while the country and State was passing through such a crisis.
Chief Minister appealed the people to follow all SOPs and not to indulge in negligence to keep this virus at bay. Covid-19 has affected the pace of development in the State. But, now no slip would be allowed and all the officers and employees have been asked to gird up their lions to achieve all the set targets without fail.
Chief Minister Jai Ram Thakur apologized the people of Bhatiyat constituency as he could not visit the constituency earlier due to unavoidable circumstances since Lok Sabha elections. He thanked the people for reposing confidence in him by giving a huge share of votes to the BJP candidate in these elections. He detailed various developmental works executed in the last three years in Bhatiyat Assembly Constituency under his Government. He thanked the people of Bhatiyat for contributing liberally towards Chief Minister Relief Fund by donating Rs. 49 lakhs in the fight against Covid-19. He said that various developmental works worth Rs. 148 crore, PWD works worth Rs. 185 crores and IPH works of Rs. 287 crores which were being executed in the Bhatiyat Assembly Constituency.
Jai Ram Thakur counted several schemes launched by his Government in the State. He said that the first decision taken by his Govt. was regarding old age pension. He also briefed about Grihini Suvidha Yojna, 'Sahara' and Him Care.  He appealed the people to vote prudentially in the upcoming Panchayati Raj Elections.
Chief Minister announced up-gradation of PHC, Samote to Community Health Centre, Govt. Middle Schools, Kakroti Ghatta and Sarog to Govt. High Schools, Dadhu to Govt. Senior Secondary School. He also announced opening of Fire Brigade Sub-Station in the Bhatiyat Assembly Constituency and to sympathetically consider over proposals of opening of SDPO Office, Police Station and Chowki at different places. He announced PWD Division and examination of demand for opening of IPH Division after rationalization for Bhatiyat constituency. He said that the demand for up-gradation of sub-bus depot Chowari would be examined for making it a full bus depot.  He said that a Civil Court would be opened at Chowari after finding justification and completion of all codal formalities.
Chief Minister Jai Ram Thakur distributed Pattal and Dona (leaf plates and cups) making machines to four Self Help Groups (SHGs) of Chamba district. These machines were given to these SHGs under the auspices of Department of Environment, Science and Technology under the self-employment generation activities initiatives. CM also distributed cheques to nine beneficiaries for construction of houses under Pradhan Mantri Aawas Yojna (PMAY).
Forest Minister Rakesh Pathania urged the people to create history in Himachal Pradesh by re-electing the Jai Ram Govt. in the upcoming State Elections in 2022. He jibed at the Congress party saying that it was without any leadership in Himachal as many had been trying to head the party.
MP Lok Sabha Kishan Kapoor while addressing the gathering congratulated the people for the victory of NDA in Bihar Elections. He said that Rs. 196 crore had been sanctioned for Mandi-Pathankot NH and the work would be resumed after Diwali festival.