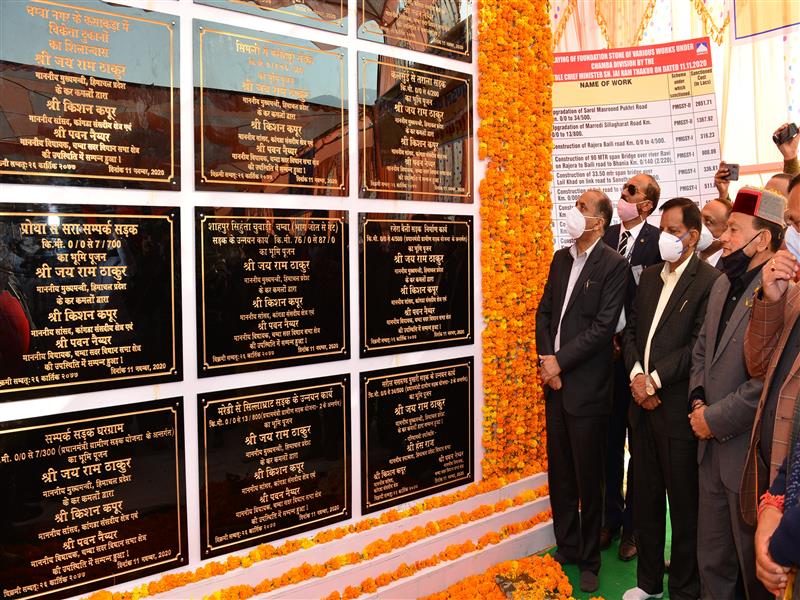 Chamba, Nov, 11
The three years tenure of the present State Government has been full of achievements and accomplishments, and all this was possible due to the active cooperation and support of the people of the State. This was stated by Chief Minister Jai Ram Thakur while addressing a public meeting at historic Chamba Chowgan after he laid foundation stones of developmental projects worth about Rs. 113 crores for Chamba Vidhan Sabha area today.
Chief Minister laid foundation stones of upgradation of Sarol Masroond Pukhri and Meredi Silliagharat roads to be completed by spending amount of Rs.26.52 crore and Rs. 13.68 crore respectively under PMGSY-II. These roads would benefit over 45000 persons of 11 panchayats of the area. He laid foundation stone of construction of Rajera to Baili road, 90 meter bridge span bridge over Ravi river on Rajera to Baili road at Bhania, construction of 33.50 meter span bridge over Loil Khad on link road Sanotha and construction of Link road to village Ghar Gram to be completed by spending an amount of Rs 3.17 crore, Rs 9 crore, Rs 3.37 crore and Rs 5.12 crore respectively.
Jai Ram Thakur also laid foundation stones of Parotha to Sara road, Kalsuin to Tarala road, Simli to Fatehpur road, improvement and widening of Shahpur Sihunta Chowari Chamba road and parking complex at Chamba, Stage -I to be completed by spending Rs 5.85 crore, Rs 3.36 crore, Rs 2.96 crore, Rs 2.23 crore and Rs 25.03 crore respectively. He performed foundation stone laying ceremonies of Model Career Centre for District Employment Office Chamba, vendor shops in Mohalla Kasakra Chamba town, 30 meter span RCC Box Girder Bridge over Gagla Nallah on Chaned Chamdoli road and of 100 bedded boys hostel for Millennium Polytechnic College Chamba to be completed by spending amount of Rs 3.80 crore, Rs 3 crore, Rs 1.30 crore and Rs 4.55 crore respectively.
Chief Minister said that the vendor shops to be constructed in Mohalla Kasakra would go a long way in decongesting the Chamba town. He said that the parking complex would have the capacity of parking over 350 vehicles which would facilitate the people of the town. He directed the officers to ensure time bound completion of all these projects, as tenders have been awarded in respect of all projects except the construction of vendor shops, which would be awarded soon.
Jai Ram Thakur said that Chamba was a backward and far flung district of the State and the Government has accorded top priority to alround development of the district. He said that the Union Government has also given special status to Chamba district to ensure its rapid development.
Chief Minister said that the Corona pandemic was not yet over and urged the people of the State to be extra cautious and maintain social distancing and use face mask in public places. He said that people were becoming bit more casual during social functions such as marriages etc. which has resulted in increase number of Covid-19 cases in the State. He said that timely decisions and steps taken by Prime Minister Narendra Modi had helped in checking the spread of this virus in the country. He said that at the time of spread of this virus, not even a single PPE kit and ventilators were available in the country, but now over 5 lakh PPE kits were prepared in the country in a single day and thousands of ventilators were also being produced per day and exporting them to several other countries. He said that 500 ventilators were also provided to the State by the Centre Government.
Jai Ram Thakur said that the opposition leaders were even politicising this sensitive issue and even opposing the move of the State Government to bring back about 2.50 lakh Himachali's stranded in different parts of the country. He said that all these people were first tested and only then allowed to go home. He also thanked the people of constituency for distributing 35000 masks to the people in Chamba Vidhan Sabha area. He also detailed several historic decisions taken by the Prime Minister Narendra Modi.
Chief Minister said that State Government has launched several schemes for the people of the State which include HIMCARE, Grihini Suvidha Yojna, Sahara Yojna, housing schemes such as Mukhyamantri Aawas Yojna, self employment scheme such as Mukhyamantri Swavalamban Yojna, Social Security Pension etc.
Referring to development of Chamba district, Chief Minister said that the district has made rapid strides in matter of development. He said that work of Medical College Chamba would be expedited. He announced upgradation of Government Middle Schools Mankot, Kafila and Kaga to High Schools and Government Primary Schools Dhamgram, Oyal and Kakela to Middle schools. He also announced opening of PWD Sub Division and JE Section for Medical College Chamba.
Chief Minister also honoured the Corona warriors on the occasion.
Member of Parliament Kishan Kapoor said that the double engine of Centre and State Government has ensured balanced and equitable development of the State. He said that about 31 crore bank accounts were opened under the Jan Dhan Yojana in the country. He said that the nation today was safe in the hands of Prime Minister Narendra Modi and capable to safeguard its frontiers. He said that abrogation of 370, CAA and Triple talaq were historic decisions which were possible due to the strong leadership provided by Prime Minister Narendra Modi.
MLA Chamba Pawan Nayyar while welcoming the Chief Minister said that this was the fourth tour of the Chief Minister to the district, which shows love and benevolence he shares with the people of Chamba. He said that by laying the foundation stone of Car Parking at Chamba, Chief Minister has fulfilled the long pending demand of the people of the area. He also thanked the Chief Minister for laying foundation stone of Vendor shops to be constructed by using pre fabricated structure which would help the vendors in earning their livelihood.