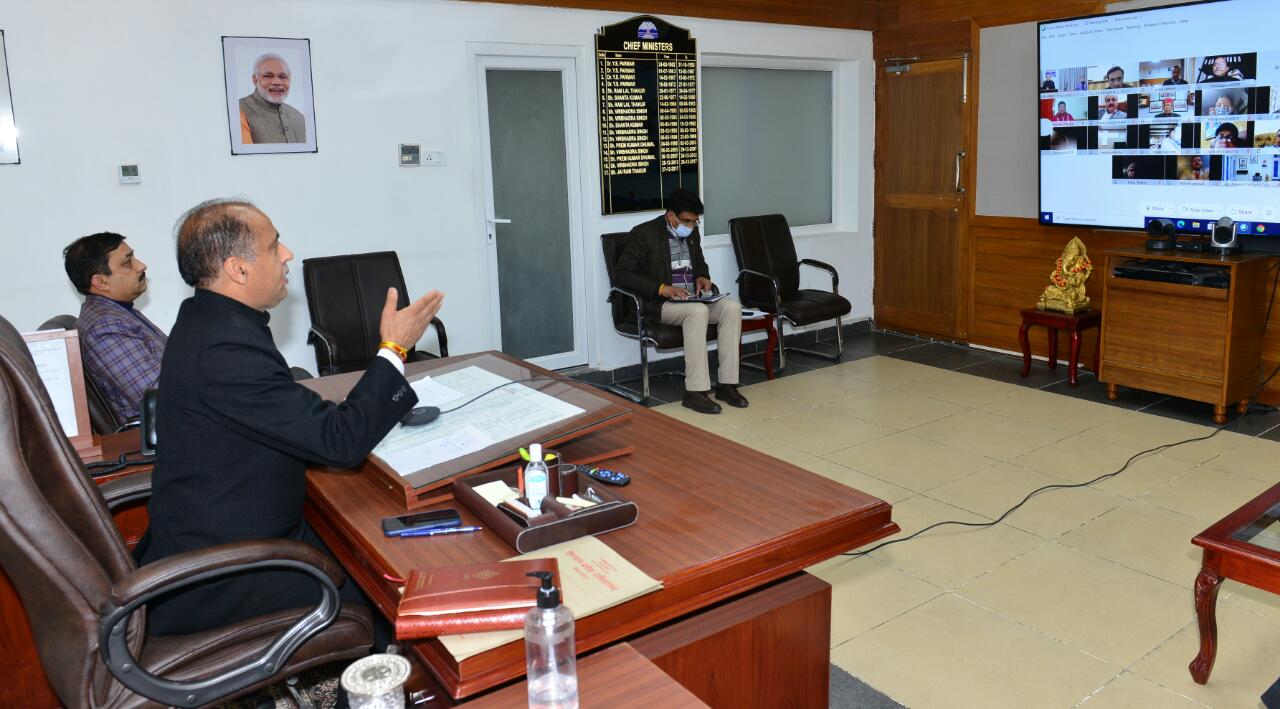 Shimla, Dec.1 – All the elected representatives and BJP workers must persuade people in their respective districts to effectively implement the SOPs laid down by the State Government and also lead by example. This was stated by the Chief Minister Jai Ram Thakur while addressing the virtual meeting with BJP Officer bearers and BJP candidates for 2017 Assembly Elections from here today.
Chief Minister said that due to the unlock and casualness of the people regarding the restrictions imposed the State Government to check the spread of virus has resulted in the increase in Covid cases. He said that social functions such as marriages has resulted in large number of cases. He said that now the Government has decided that permission of local SDM would be mandatory for all the social gatherings such as marriages, birthday parties, mundans etc. and Executive Magistrates ensure effectively enforce the SOPs.
Jai Ram Thakur said that State Government has also decided to to recommend the cancellation of the winter session of H.P. Vidhan Sabha slated to be held at Dharamshala from 7th December to 11th December, 2020 in the wake of increase in Covid-19 cases in the State and restrictions imposed on various social gatherings. He said that the opposition leaders were making baseless comments on this which shows their seriousness regarding this sensitive issues.
Chief Minister also urged all the Ministers, MPs, MLAs not hold any public functions and hold virtual functions by strictly adhering to the SOPs issued by the State Government from time to time. He said that the State Government imposed night curfew in four districts of the State to discourage the people to gather during nights at large number of people during social functions results in sharp spread of this virus. He also requested the Ministers to ensure effective implementation of Him Surksha campaign in their assigned districts.
He said that said that each and every party functionaries should work with greater coordination to achieve the desired results. He also felt the need for better liaison and contact with the beneficiaries of various schemes.
State BJP President Suresh Kashyap said that the situation of Corona Pandemic has worsen in the State due to the sharp spike in the number of Corona cases. He said that each and every party functionary must work dedicatedly to check the spread of this pandemic. He said that all the office bearer must also ensure that no public function be held in the State which attracts large number of people. He said that all the programmes of the Party must be held virtually. He also appreciated the decision of the State Government to defer the Winter Session of the State Vidhan Sabha at Dharamshala due to the sharp increase in the Corona patients.