BRO & PWD asked to deploy machinery in Lahaul-Spiti to keep accessibility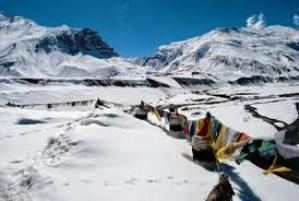 Kaza Oct. 22 Bureau
Additional Magistrate Gyan Sagar Negi ordered the Public Works Department and BRO to deploy their machinery in places where there is excess snowfall in Lahaul Spiti valley beforehand so that the access to such places is not lost during winter.
Negi was presiding over a review meeting was organized under the chairmanship of in the Spiti Sub Division of District Lahul Spiti for storage supply of food and other essential items for winter.
He said that areas like Todh Valley, Pin Valley, Demule, Lalung, Hikkam and Kaumik are completely cut off during the winter for four to five months. As the temperature dips below zero degrees in these places, advanced food and essential commodities supplies of essential commodities like food items, cereals, fuel, LPG gases, and petrol and diesel essentials are being made in advance.
During the supply review, the demand for 40 to 45 thousand quintals of wood in Spiti Sub Division came to light. According to the forest department, 39000 quintals of timber have been already been sent so far. Instant wood has been stored in Hansa, Losar, Pangmo, Hull, Kibber, and Pin valley.
According to the Food and Supplies Department, as per demand for food grains in Spiti, Anaaj has been distributed. Ration has been supplied till 31 March 2021. Petrol is supplied through the Kaza Petrol Pump. The pump has the capacity to store 70 thousand liters and petrol 40 thousand liters.
So far 23 thousand liters of petrol and 27 thousand diesel have been stored for the winter. Kerosene oil has been supplied. Negi ordered the Food Supply Corporation to immediately supply all the items along with the deficit one.
Spiti is in demand for 22000 LPG cylinders out of which 17000 cylinders have been distributed. Along with this, supplies have also been made. In the Spiti region, medicines have been supplied to dispensaries. Along with this, an adequate quantity of medicines has been stored in Kaza Hospital.