7 HP NCC cadets selected for Republic Day Parede at Delhi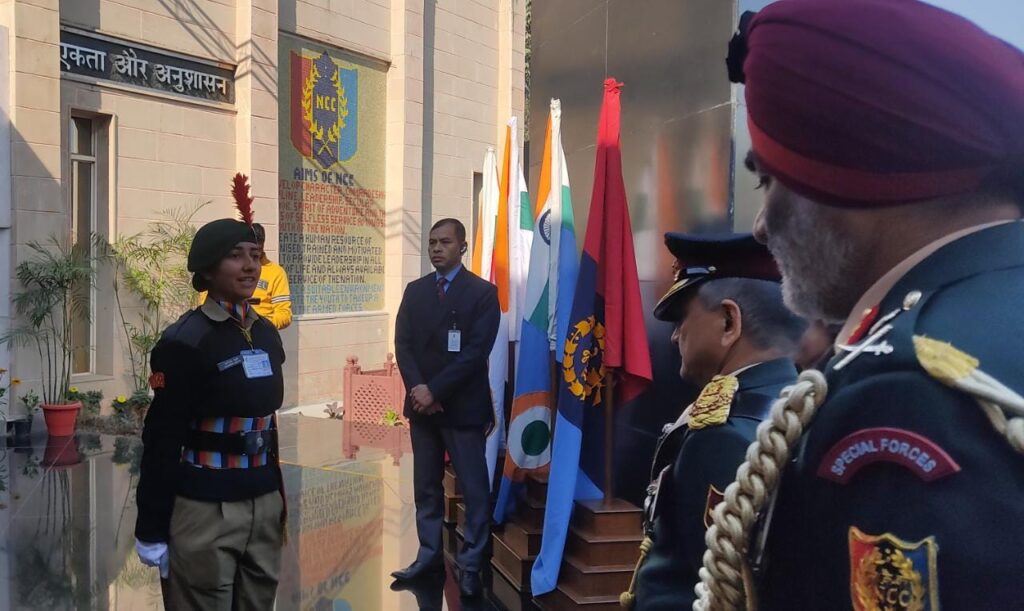 Shimla, Jan 244
7 HP (I) COY NCC SHIMLA , Senior Under Officer Maanika Sethi (St. Bede's College), Lance Corporal Ivy Bhettan ( St. Bede's College) ,Lance Corporal Mehek Chauhan (kotshera college) ,Cadet Harsh Jamalta (Kotshera College) , Cadet Dhananjay (Kotshera College) are selected for the REPUBLIC DAY CAMP DELHI this year, told Commanding officer Col. D.R. Gargey here on Tuesday.
Col. Gargey added that 7HP(I)COY NCC SHIMLA proudly announce that SUO Maanika Sethi has been selected as the Central MC for Culture and Central MC in felicitation Ceremony of YEP cadets in the presence of honourable Defence Minister Sh. Rajnath Singh , Defence Secretary and DG NCC Lt. Gen Gurbirpal Singh AVSM VSM. She also briefed various dignitaries in the Hall of Fame including CDS General Anil Chauhan PVSM UYSM AVSM SM VSM. Along with her L.CPL. Mehek Chauhan has been selected as the placard bearer in the prestigious PM Rally, L.CPL. Ivy Bhettan in zonal Contingent in prestigious PM Rally along with being in Culture team. Cadet Harsh Jamalta & Cadet Dhananjay are incharge of flag area & line area of PHHP&C DTE. He said that 5 of them are among the selected cadets of Punjab Haryana, Himachal Pradesh and Chandigarh Directorate.
"RDC is the most glorious camp for the cadets in NCC. Representing at National Level itself gives enough power and confidence, but it is a fact that precious things are always difficult to achieve. The cadets are selected through a tough and rigorous selection process. The cadets attending the camp participate in a number of activities like Cultural, National Integration Awareness program and Institutional Training Competitions", said commanding officer Col. D.R. Gargey.
He told that the camp is visited by a large number of dignitaries including the Vice President of India, Defence Minister, Defence State Minister, Chief Minister of Delhi and the Chiefs of the Army, Navy and Air force. The aim of the Republic Day Camp is to enhance the self-confidence of the cadets, deepen their value systems and provide exposure to the rich culture and traditions of our nation.
Colonel D.R. Gargey ,Commanding Officer 7 HP (I) COY NCC SHIMLA ,congratulated these meritorious cadets ahead of the upcoming Republic Day.