Hyderabad International Airport to Have Non-stop Connectivity with USA by Air India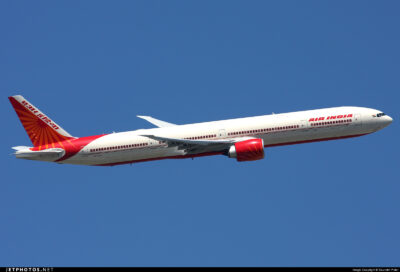 Air India to connect Hyderabad with Chicago from 15th Jan onwards
To serve over 7 Lac passengers originating from Hyderabad and destined to the US annually
Additionally, to serve over 2.2 Lac passengers originating from Hyderabad catchment area destined to the US annually
Hyderabad, 9th December, 2020: Come January 2021, the long wait for a direct connection of the City of Pearls, Hyderabad with the land of opportunity – the United States of America (USA) is soon to be over with GMR led Hyderabad International Airport announcing an all new non-stop service to Chicago. Air India, the national carrier will be starting its direct, non-stop flight between Hyderabad and Chicago effective 15th January 2021. The Airline would be operating with Boeing 777-200 aircraft, with seat capacity of 238 (8 First Class + 35 Business Class + 195 Economy Class).
Hyderabad-USA-Hyderabad, has been the largest unserved passenger Origin & Destination (O&D) market between India and the US, with a potential of over 700,000 passengers annually. Hyderabad is a gateway to South & Central India, and a preferred and the largest transit hub. It offers convenient proximity for passengers originating from the nearby cities, viz. Vijayawada, Vishakhapatnam, Nagpur, Bhubaneswar, Rajahmundry, Bhopal, and Tirupati among others pushing an additional demand of approx. 220,000 passengers annually.
Pradeep Panicker, CEO, GMR Hyderabad International Airport Ltd, said, "This new non-stop route connecting Hyderabad and Chicago in the USA has been on our connectivity wish list for quite some time. And we are delighted that it is our very own national carrier Air India that has commenced this service. The launch of this route brings two destinations closer for all our passengers who have been waiting eagerly for a direct flight from Hyderabad to the USA. Hyderabad International Airport has been always committed to connect the best destinations to cater to the passenger demands. We are constantly working on linking more cities domestic and international with focus on high standards of safety to serve our passengers."
Hyderabad is second home to the US giants such as Amazon, Microsoft, Apple, Google etc. to name a few. The progressive measures taken by the Telangana State Government, the investments especially from the US based companies in Hyderabad have increased manifold and continues to increase. The USA has been numero uno destination for IT exports from Hyderabad with ~70% of the total IT exports from Hyderabad to the US.
A direct connectivity to the US from Hyderabad was long due and is much deserving offering from Air India to the corporate community from the regions. The First Class and Business class offerings of Air India will surely be an experience fitting the customers valuing high taste.
The Telugu diaspora from the Telangana and Andhra Pradesh regions, is one of the fastest growing community in the US. As per some estimates every 4th student traveling abroad for studies from India is from the Telugu states of Telangana and Andhra Pradesh. India is the 2nd largest source country for foreign students coming to USA each year.
Also, Hyderabad is known as the Pharma Capital of India and a Vaccine Manufacturing Hub of India. Now a direct connectivity to USA would provide the much needed impetus to its Pharma industry for Air Cargo uplift. The current annual air cargo tonnage in the Hyderabad-USA market segment is pegged at 22,000 metric tons and growing at 8% annually. This flight could play an important role in providing the logistic support to transport COVID vaccines between the two regions.
Under the Air Transport Bubble arrangement, airlines like British Airways have resumed operations connecting Hyderabad to the UK and beyond; while, Emirates, Etihad, Fly Dubai and Air Arabia have resumed their services connecting Hyderabad with various destinations in the United Arab Emirates. Qatar Airways has also reconnected Hyderabad with Doha, the capital city of Qatar.
The arrival and departure passengers for all international flights are being handled as per the safety protocol through the fully sanitized ACI Airport Health Accredited Hyderabad International Airport. Mandatory screening and safety measures are in place throughout the terminals with mandatory social distancing enforced through special queuing arrangements at all passenger processing points.
In October' 20, Hyderabad International Airport extended its indigenously developed digital solution of E-boarding services to international flights, becoming the first airport in India to do so.