CM dedicates 14 development projects and lays foundation stone of 25 schemes both at cost of Rs. 2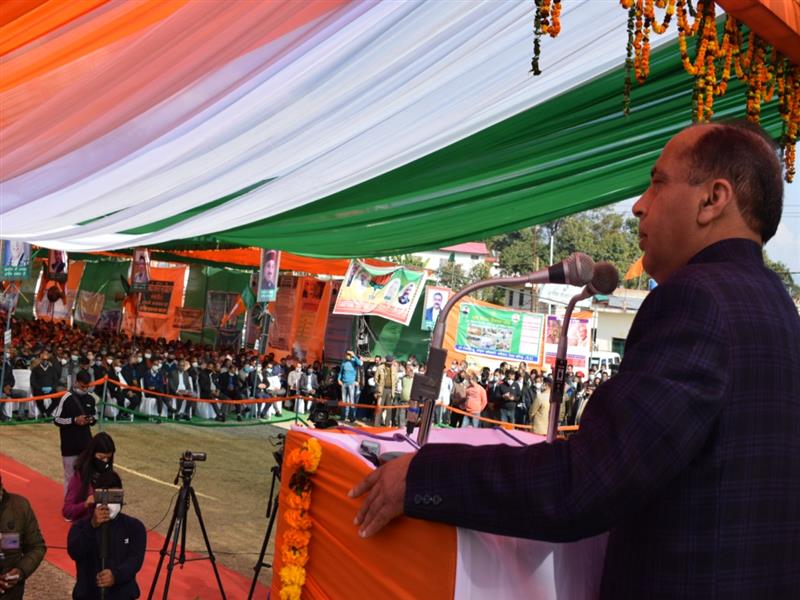 Shimla, Nov 22
Chief Minister Jai Ram Thakur said that the Covid-19 has badly affected the economy of the country during the last nine months. But, Prime Minister Narendra Modi has very efficiently managed this pandemic and ensured the safety of nation. Tourism is the core sector of Himachal's economy and it has been badly affected by this deadly virus. Though, we should not get afraid of the present situation but, we should play safe by adhering to the SOPs issued by the concerned authorities.
He was addressing a public gathering on Friday at the Gandhi Ground of Municipal Council, Nagrota Bagwan.
Chief Minister Jai Ram Thakur praised the people for wearing masks and for making efforts to maintain social distance in the public meeting organized at Nagrota Bagwan. He urged the people to follow all directions of the Prime Minister in the fight against Covid-19 as no vaccine is yet available in the world. He took a dig at the opposition for practicing petty politics even during such a crisis. The State Government worked day and night during the lock down period and brought over 2.5 lakhs Himachalis back to their native places. They were tested and treated before sending to their homes. But, the opposition kept criticizing the Govt. without doing anything constructive when the people needed it most.
Jai Ram Thakur asked the people not to let the reign slip out of their hands in the fight against Corona Virus as the number of Covid-19 cases was again on the surge in the State these days. He asked the people to take all necessary precautions while being at public places and celebrate all social functions and gathering with complete vigilance. Chief Minister said that the work culture has been changed after his Government took over in the State. His government believed in work only and expressed hope that his government would repeat in the next State Vidhan Sabha elections, scheduled after two years.
Jai Ram Thakur said that the strong and dynamic leadership of Prime Minister Narendra Modi gave India a chance to emerge as a leader in the world. Various steps have been taken to provide relief to the poor in the country under his able guidance. He enumerated various welfare schemes being executed for the welfare of the people across the State. He said that NDA government came into power in Bihar only because of the vibrant leadership of Modi.
Jai Ram Thakur said that PWD works worth Rs. 365 crore and Jal Shakti works worth Rs. 150 crore were being executed in the Nagrota Constituency. He announced Rs. 5.5 crore for Architecture College Nagrota Bagwan and Rs. Two crore for Government Degree College, Baroh. He said the Fruit Canning Unit at Hatwas would come up as per need and the Community Center at Nagrota Bagwan would be reconstructed keeping in view the needs of the urban community after studying the proposals. He announced upgradation of Government High School (GHS), Jalot to Government Senior Secondary School (GSSS) and Veterinary Dispensary, Suind to Hospital and opening of Patwar Circle at Tharu. He assured to sympathetically consider the proposal for opening of BDO Office and constructing Combined Office Building at Baroh.
Earlier, Chief Minister Jai Ram Thakur dedicated 14 development projects to the people of Nagrota Bagwan constituency here at Gandhi Ground of Municipal Council at Nagrota Bagwan and lays foundation stones for 25 other schemes relating to various departments, both at a cost of Rs. 231 crores. He inaugurated Combined Office Building, Nagrota Bagwan worth Rs. 460 lakh, and Administrative Block worth Rs. 650 lakh and Trainees Hostel in Rajiv Gandhi Government Engineering College, Massal at Rs. 750 lakh, providing Lift Water Supply Scheme to RG Government. Engineering College, Massal worth Rs. 4.78 crore, New Block in Government Senior Secondary School GSSS, Samloti worth Rs. 164 lakh, ITI Building, Serathana worth Rs. 550 lakh, Link Road from Jandhrah, Aerla, Kardiana Road, 30 meters Span Box Girder Bridge over Honsti Khad worth Rs. 150 lakh, 30 mts span box girder bridge on Gujrehra Road to Dukkar Road on Ojh Khad worth Rs. 200 lakh, 62 meters Span Bow String (Tied Arch Type) Foot Bridge over Jogll Khad on link road to village Phalu worth Rs. 200 crore, 30 meters Span Bridge over Singh Nalhon link road to Massal Parmar Basti Road worth Rs. 200 lakh .
He dedicated Academic Block and Administrative Block and laid foundation stone of Girls Hostel and Boys Hostel in Government B. Pharmacy College Nagrota Bagwan at a combined cost of Rs. 2575 lakh. Chief Minister, also, laid foundation stones for Residential Block in Rajiv Gandhi Government Engineering College, Massal to be completed by spending Rs. 2429 lakhs, New School Building of GSSS (Boys), Nagrota Bagwan to be constructed by spending Rs. 155 lakh, Science Block Building of GSSS, Balugaloa worth Rs. 109 lakhs, HPPWD Division Building worth Rs. 224 lakh and Residential Complex for Himachal Pradesh Public Department (HPPWD) Staff quarters at Nagrota Bagwan worth Rs. 164 lakhs, Barana-Mariyari-Hachichik Bug-Nehar Palachakloo Road worth Rs. 672 lakh, upgradation of Jandrah Aerla Danoa Kandi via Bhorla Road at Rs. 919 lakh, Link Road from Gheena to Lohar Lahari Jandrah Road worth Rs. 242 lakh, 25 mts Span RCC Box Girder Bridge over Bhaloon Khad on link road from Baldhar to Bheru to be constructed with cost Rs. 164 lakhs, 50 mts Span Box Girder Bridge over Baner Khad on link road from Noura to Thanpuri worth Rs. 389 lakhs, 68 mts Span Steel Truss Bridge over Bathu Khad on Chhughera Sadoon Kandi Road worth Rs. 299 lakh, New Block for 100 bedded Civil Hospital, Nagrota Bagwan to be constructed at the cost of Rs. 1154 lakh, additional accommodation in CHC, Baroh worth Rs. 934 lakh, MBBS Girls Hostel at Dr. RPGMC, Tanda worth Rs. 1491 lakh, Rural Livelihood Centre Building at Nagrota Bagwan worth Rs. 729 lakh, Rural Piped Water Supply Scheme to Multi Village Group of GP Dhaloon, Patiyalkar, Kaled, Rumehar, Sihund and Baldhar in Nagrota Bagwan block worth Rs. 1632 lakh, Jandrah and Multi Village Group of Piped Water Supply Scheme for Changar Area in Baroh Tahsil worth Rs. 175 lakh, Source Augmentation and Improvement of Distribution System of Lift Water Supply Scheme Gheen, Morth, Jassal and Balu Galoa in Baroh Tahsil worth Rs. 267 lakhs, Functional Household Tap Connection for Multi Village Group of Changar Area in various panchayats in Baroh Tahsil worth Rs. 251 lakh, Residential Colony of Jal Shakti Division, Nagrota Bagwan worth Rs. 210 lakh, Lift Water Supply Scheme to Serathana, Rounkar and Jassore villages at Rs. 412 lakh, Massal and other multi village Rural Piped Water Supply Scheme for part of Nagrota Bagwan worth Rs. 2102 lakh, Improvement of four Water Supply Schemes, Serathana and Dhaloon, Sunehar, Mundala and Thanpuri, Pathiar and Malan and Tharu and Barai worth Rs. 447 lakh.
After landing at Hatwas, Chief Minister visited and inspected the Fruit Canning Unit. He, also, visited the old and dilapidated building of Community Centre of Municipal Council.