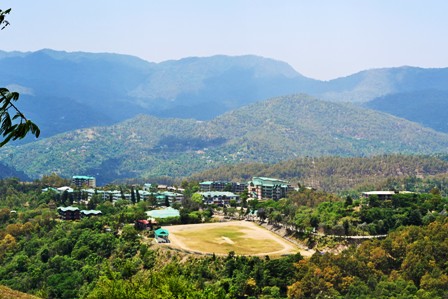 Participants from 17 states attended the programme  
A three-day online training on 'Regenerative agriculture through natural farming practices' was organised by Dr. YS Parmar University of Horticulture and Forestry(UHF), Nauni in collaboration with the National Centre for Management of Agricultural Extension (MANAGE), Hyderabad.
Ninety participants from 17 states including Andhra Pradesh, Bihar, Chhattisgarh, Gujarat, Haryana, Himachal Pradesh, Karnataka, Madhya Pradesh, Maharashtra, Meghalaya, Mizoram, Punjab, Tamil Nadu, Telangana, Uttar Pradesh, Uttarakhand & West Bengal attended the training. A participant from Mauritius was also part of the training. In addition, participants from WhatsApp groups of MANAGE and students and faculty members from UHF Nauni also joined the online training programme. Participants included students, farmers, FPO representatives, managers, directors, KVK scientists and faculty from different educational institutions.
Hon'ble Vice Chancellor Prof. Rajeshwar Singh Chandel, who has led the natural farming initiative, graced the inaugural ceremony of the training programme. Dr. Subhash Chander Verma from UHF and Dr. B Renuka Rani, Deputy Director (NRM) from MANAGE were the coordinators of the training while Dr Sudhir Verma and Dr Subhash Sharma were the co-coordinators.
Dr. Subhash Verma, Dr. Kuldeep Singh Thakur, Dr. Sudhir Verma, Dr. Upendra Singh, Dr. Rohit Bishisht, Dr. Pramod Sharma, Dr. Rakesh Sharma and Dr, Subhash Sharma delivered talks on various aspects of natural farming. The topics touched on all aspects of natural farming starting from its history, concepts and principles of agroecology and natural farming, different agronomic and pest-disease control measures under this methodology, crop intensification, post-harvest management and quality of produce, economics and profitability. Dr. Manoj Gupta from SPIU, PK3Y, and sustainable food systems, entrepreneurship and technology expert Ashish Gupta also addressed the participants on the certification process and formation of FPOs. An overview of the initiatives by the university and government of HP was also given.