Passion conquering fear via "Virtual Exhibition"  
Shimla, Nov 3 Himachal Tonite Story
If you have a strong purpose in life, you don't have to be pushed as your passion will drive you there proved the Philatelist of the state as 48 of them participated in a "Virtual Exhibition" cum competition this year, organized by the Postal Department Shimla.
"Owing to situations arisen due to COVID-19 pandemic, the activities like Philatelic Exhibitions involving Philatelist, school children and the general public are a little difficult due to social distancing norms. The idea to hold Philatelic Exhibition "Virtually" has been evolved which resulted in the development of this virtual platform to enable the Philatelist to showcase their valuable collection of stamps and other related materials", informed the organizers from the Postal Department.
This exhibition can turn out to be a treat for children as complete collection of Stamps on Children's Day from 1957 to 2019, issued by the Indian Postal Department have been exhibited by Pritha Deogar class VI, Auckland House School. Collection refelects upon the celebration of Christmas by various Disney Characters and keeping the warm spirt alive when everything all around us is so cold.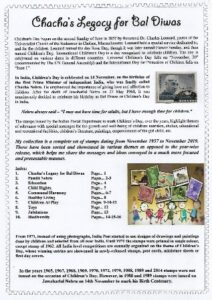 Department of Posts organizes philatelic exhibitions at a State and District level as a part of its Philately Promotion Program. Department has been organizing exhibitions on a regular basis in all the States and Districts of the Country with help from the philatelic organizations active in the area.
Even school children can participate in various competitions and prove their talent in various innovative fields. This effort of Himachal Pradesh Postal Circle is a contribution towards the thought that every crisis always brings an opportunity to discover new ways to move forward in life.
There are total 98 frames being exhibited online this year based on different categories including Postal History in which 3 people participated, Postal Stationary- 2, Thematic Philately- 20, First Day Covers- 2, Modern Philately- 2, Social Philately-2, Philatelic Publications-1, Youth ( All ages as on 1st of January 2020) – 13, Traditional Philately – 3 and School Collections -0
Other participants in different categories include Samarth Chandla, Lavisha Gupta, Shireen Thakur, Major Dr Ritu Kalra, Kailash Sharma, Ajay Srivastav and Satish Chander Kaura to name.
There are various other competitions too being organized by the department including Quiz Competition on 04 November 2020 at 11.00 PM, Essay Writing Competition on 05 November 2020 at 11.00 PM and Spot Painting Competition on 06 November 2020 at 11.00 hours.
For details one can visit the website https://himpex.org