Rs. 53.32 cr worth various water supply schemes foundation stone laid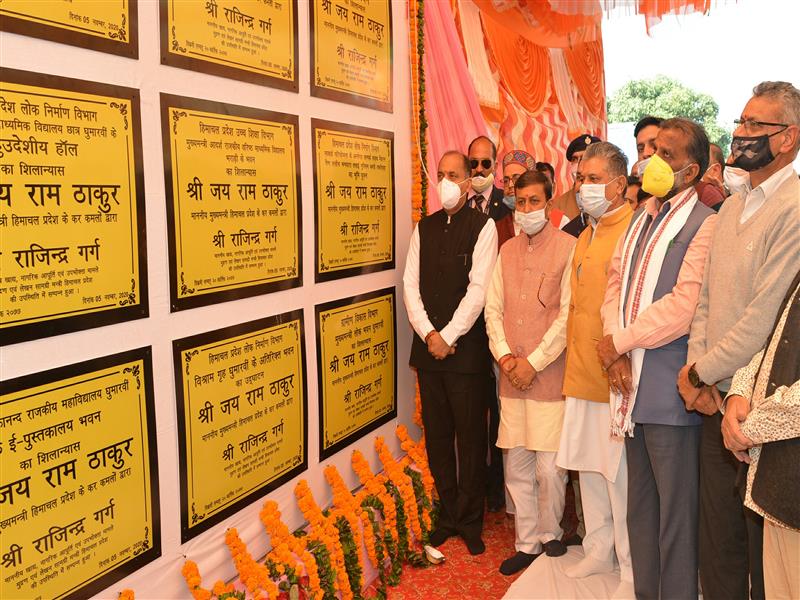 Shimla, Nov. 5
The State Government was ensuring equitable and balanced development of the State with special focus on those areas which had remained neglected so far due to one reason or another. This was stated by the Chief Minister Jai Ram Thakur while addressing a public meeting at Bharari in Ghumarwin Vidhan Sabha area of Bilaspur district today after inaugurating and laying foundation stones of developmental projects worth about Rs. 190 crore in the constituency.

           Chief Minister inaugurated additional accommodation in PWD Rest House Ghumarwin constructed at a cost of Rs. 72 lakh. He laid foundation stones of      Rs. 53.32 crore of various Lift Water Supply Schemes for the constituency under Jal Jeevan Mission, Rs. 21.17 crore Mini Secretariat Building at Ghumarwin,     Rs. 6.50 crore Science Block at Government College Ghumarwin, Rs. 4.35 crore Multi Purpose Hall in Government Senior Secondary School (Boys) Ghumarwin, Rs. 2.51 crore School Building of Government Senior Secondary School Bharari, Rs. 2.39 crore augmentation work of 33/11 KV manned Sub Station Naswal under HPSEB Ltd. Division Ghumarwin and Rs. 1.33 crore construction of e-Library Hall in Swami Vivekananda Government Degree College, Ghumarwin. He also laid foundation stone of Municipal Council parking at Ghumarwin to be completed by spending Rs. 4.46 crore.

           Jai Ram Thakur also performed Bhumi Pujan of upgradation of Dadhol Ladraur Road via Bharari to intermediate standard to be completed by spending of Rs 82 crore, Bhumi Pujan of upgradation of Rohal Khad to Ghandalwin road via Lehri Sarail to be completed by spending Rs. 5.50 crore and Bhumi Pujan of Mehra Nain Jalaun Pangwara Talai Takrehra Road to be constructed by incurring an amount of Rs. 2.52 crore. 

           Chief Minister said that it was for the first time that Ghumarwin Vidhan Sabha area has got representation in the State Cabinet. He said that today the public meeting was being held in different conditions as due to the Corona pandemic all have been forced to maintain social distancing and use face mask in public. He said that it was due to able leadership of Prime Minister Narendra Modi that situation in the country was much better than most of developed nations. He said that timely decisions taken by Prime Minister has ensured that the deaths in India were much less as compared to several major nations of the world.

           Jai Ram Thakur said the people of the country were rock solid behind every decision of Prime Minister. He said that there were no PPE kits in the country, in the initial stage of the pandemic but India was now producing over 5 lakh PPE kits and crores of face masks per day and exporting the same to several countries. He said that all this was possible due to strong leadership of Prime Minister. He said that there were only 60 ventilators in the State, but the Union Government provided 500 ventilators and 500 oxylinators to the State. He said that the Congress Party ruled the State for about five decades, but they did nothing for the State. 

           Chief Minister said that when his Government was busy in fighting the Covid-19 virus in the State, the Congress leaders were politicising even this sensitive issue. He said that the Congress leaders even opposed the decision of the State Government to bring back about 2.50 lakh youth stranded in different parts of the country by alleging that the State Government was bringing Corona to the State. He said the Congress leaders even submitted a bill of Rs. 12  crore to the Congress High command whereas on the other hand the Government spent Rs. 13 crore for providing masks, sanitizers, providing food and brought back lakhs of youths to the State. This shows how the State Congress leaders did not hesitate in fleecing even their own party, he added.

           Jai Ram Thakur said that the present Government was ensuring that the developmental projects being executed in the State were being completed within stipulated time period. He said that Rs. 176 crore road schemes were being implemented in the district  under PMGSY. He said the Government was also ensuring that the pace of development does not get affected due to the pandemic. He said that since independence, the slogan 'India is One'was recited, but it was only after abrogation of Article 370, that this nation  actually became one from Kashmir to Kanyakumari. He said that Ram Janambhumi issue was hanging in fire for several decades, but due to the strong leadership at centre, today a magnificent temple of Lord Ram was being constructed at Ayodhya.

           Chief Minister said that the present State Government in its very first  cabinet meeting lowered  the age limit for availing the benefits of old age pension without any income limit from 80 years to 70 years. He said that this decision has benefitted about 2.90 lakh old people of the State. He said that 'Jan Manch' and 'Chief Minister Helpline-1100' have also proved a boon to people of the State for redressal of their grievances at their doorsteps. About 45000 complaints have been redressed in 'Jan Manch' and over one lakh complaints have been redressed through 'Chief Minister Helpline-1100', he added.

            Jai Ram Thakur said that over Rs. 92 crore had been provided on treatment of over one lakh persons under HIMCARE scheme till date. He said that under Sahara Yojna Rs. 3000 has been provided per month to the families with chronic ailment patients. He said that Ujjawala Yojna of Centre and Himachal Grihini Suvidha Yojna of the State Government had ensured a Smoke Free Himachal. As many as 2.80 lakh gas connections were provided in the State under the Himachal Grihini Suvidha Yojna. He said that the people of the State in general and people of Bilaspur in particular were fortunate that the biggest political party of the world BJP was today led by J.P. Nadda, son of this soil.