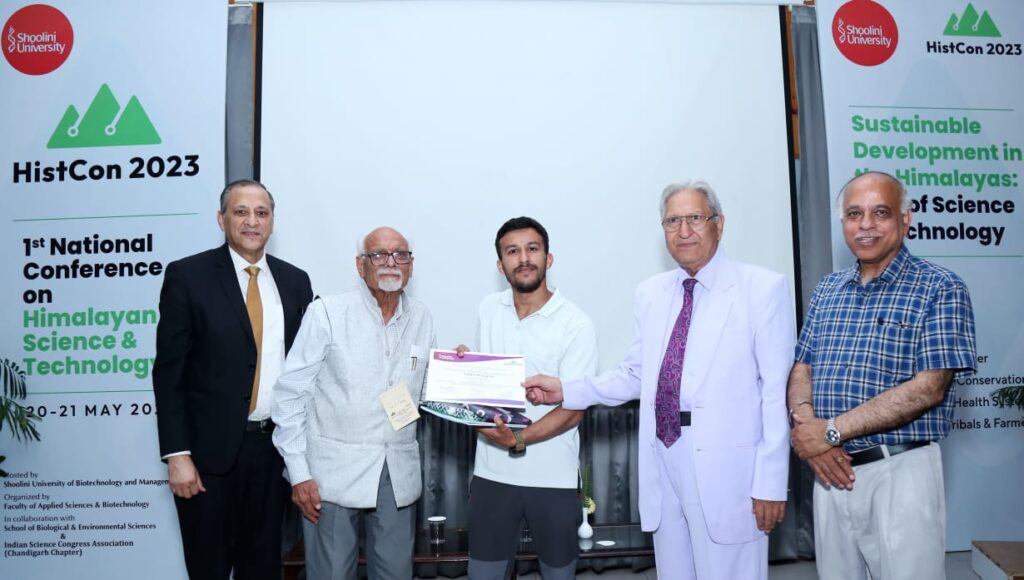 Solan, May 22
The HiSTCon, a two-day-long national conference on Himalayan science and technology, concluded successfully at Shoolini University on Saturday.
The second day of the conference started with an insightful lecture delivered by Prof Bikash Medhi, Professor and Additional Medical Superintendent AMS, Department of Pharmacology, PGIMER. Prof Bikash spoke on the importance and application of investigational new drug (IND and procedural steps, data required, trials and tests, and hindrances that might occur for building a new drug.
Dr Vipin Kumar, Professor, Doon University spoke on Prediction of Potential Floods in the North Western Himalaya: Implications for River Banks, in which he discussed the causes and incidences that might lead to or indicate flash floods and their potential impact, along with the uncertainties and discrepancies that might occur in flood management.
Prof. B.D. Joshi, Department of Zoology and Environmental Sciences, Gurukula Kangri University, Hardwar, talked about issues that arise due to hydroproject construction on the rivers in the Himalayan regions of Uttarakhand and their impact and disadvantages that occur as a consequence that the Himalayan region has to face.
Prof Surinder Rana Professor, PGIMER Chandigarh, discussed his research based on endoscopic and endoscopic ultrasound methods applied to combat disorders such as necrotizing pancreatitis and other gastrointestinal diseases with minimally invasive methods.
Prof Yogesh Chawla, Professor, PGIMER Chandigarh, in his expert talk talked about the modified versions of wheelchairs, finger pricking devices, and ultrasound devices, which are the new inventions created by different Indian national institutions to overcome the small difficulties faced by patients, and emphasised that research in the medical field is an important perspective that must be introduced and merged to find solutions for the patients that face difficulties in the regular treatment methods applied.
Prof Saurabh Kulshreshtha, Dean of Biotechnology, congratulated all the guest speakers, participants, research scholars, and faculty members.
During the two days of deliberations, the Biotechnology Department and the Environmental Sciences Department hosted more than 30 experts of the stature of directors, DGs, heads, and deans from various institutions across India. The conference was attended by more than 250 participants from various institutions in and outside the state of Himachal Pradesh.