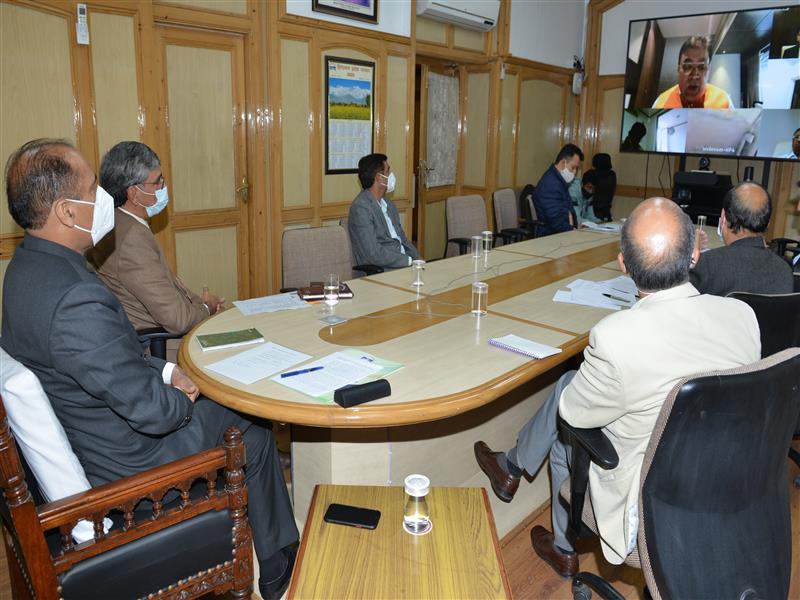 Shimla Oct. 29
Availability of water and power at lowest tariffs in India and the presence of industrial gas pipeline makes Himachal Pradesh in general and the proposed Bulk Drug Park in Una district, a favorite place for investment in the pharma sector. This was stated by Chief Minister Jai Ram Thakur while presiding over the webinar with pharma industries on 'Bulk Drug Park' from Shimla today.
Chief Minister said that Himachal Pradesh has been ranked seventh-best State in the country in Ease of Doing Business and 3rd in the country and 1st in the Northern States on Human Development Index. He said that the State has Asia's largest pharma hub manufacturing, which is 49 percent of India's drug formulations. He said that clean and green hydro power and better air, rail and road connectivity gives added advantages to the proposed Bulk Drug Park site in Una district.
Jai Ram Thakur invited the captains of the pharmaceuticals giants to partner in the development of the State, by investing in the State. He said that the Government was providing several incentives to entrepreneurs which include a single-window clearance system and online approval with the integration of 37 services of 11 line departments. He said that dedicated nodal officers for projects above Rs. 50 crore investment was ensuring timebound approval to industrial units.
Jai Ram Thakur said that Central Government under the leadership of Prime Minister Narender Modi was making all out efforts to make 'Atmanirbhar Bharat' and setting up of three 'Bulk Drug Park' in the country was a step in this direction. He said that Himachal Pradesh Government has also sent a proposal for setting up of a 'Bulk Drug Park' in Una district which would go a long way in giving a fillip for pharma activities. He said that Rs. 1000 crore subsidy would be provided for setting up of this Bulk Drug Park. He said that this would not only strengthen the economy of the State but also provide ample employment opportunities to the youth. He said that about 1400 acres of land had been identified and designated for the proposed park.
Chief Minister said that State Government had organized the first 'Global Investors' Meet' at Dharamshala in November last year to give a boost to industrial activities in the State. He said that the first groundbreaking ceremony of projects over Rs. 13 thousand crores was performed in December 2019 and added that a second groundbreaking ceremony of Rs. 10 thousand crores would be organized soon.
Jai Ram Thakur assured the captains of the pharma industries that all their suggestions would be considered sympathetically.
Additional Chief Secretary Industries Ram Subhag Singh while delivering keynote address detailed various advantages the State have for setting up of Bulk Drug Park. He also made presentation on the occasion regarding incentives being provided to entrepreneurs by the State Government.